Scotland coach Andy Robinson backing Steven Shingler in eligibility row
Last updated on .From the section Rugby Union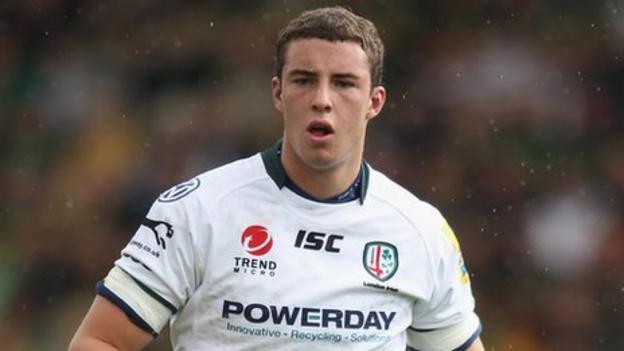 Coach Andy Robinson says Scotland are behind Steve Shingler in his appeal to play for the country of his birth.
Scotland have submitted an appeal to the IRB after they advised Shingler was not eligible for the Scots after playing for Wales Under-20s.
The 20-year-old London Irish fly-half was named in Scotland's Six Nations squad despite playing for Wales U20s against France in 2011.
"We fully support this player," said Robinson.
"For us he made a commitment to play for Scotland and we are going to support [him] through the process. "
"We put a submission into the IRB and that document will now be ready heard and read by the IRB committee.
"He came and joined the squad for one day and went back to London Irish. We talked to Toby Booth [Irish coach] about that and he was happy to release for that one day post the game against Edinburgh."
Shingler's Scottish eligibility was examined by the IRB after it was questioned by the Welsh Rugby Union.
"He is tied to Wales and ineligible to play for any other Union," a IRB statement advised.
Shingler, whose brother Aaron has been called up to Wales' training squad, was named in Scotland's 36-man squad with Robinson believing the uncapped back was available for selection through his Dumfries-born mother.
And the Scottish Rugby Union defended their stance by referring the matter to the IRB's Regulations Committee for the case can be considered "formally."
"We remain fully supportive of the player and his sincere desire to represent Scotland," added the SRU statement.
Wales believed that Shingler's appearance at full-back for their Under-20s side meant that he could only represent them at international level and the IRB ruling was made despite Shingler claiming he "declined to sign a declaration" committing himself to Wales.
Neither Wales nor France run an 'A' side and, under IRB regulation eight, their Under-20 teams of 2011 were also considered to be their second XVs.
And, as the match was sanctioned by the IRB as a "next senior XV-a-side national representative team", any player on the field would have committed his future to that country for the rest of his international career.
The IRB statement reads: "The IRB has reiterated to both Unions that during 2011 both Wales and France officially designated their under-20 team to be the next senior national team.
"As the IRB has been advised that Shingler represented Wales Under 20 against France Under 20 in 2011 it would therefore indicate that he is tied to Wales and ineligible to play for any other Union.
"The SRU and WRU may wish the IRB Regulations Committee to consider this matter formally in accordance with IRB Regulation Two.
"The Unions are aware of the requirements of such a review.
Scotland were confident that Shingler, the former Scarlets back, was eligible to play for them, citing the example of James Loxton and Matthew Jarvis, who represented Wales Under-20s against France Under-20s in 2010 but subsequently declared for Ireland.
However, Wales claimed the situation was different with Shingler because the game in 2011 had a different status to the one the year before.
The WRU referred Shingler's Scotland call-up to the IRB because of the possible precedent it might set on future Wales internationals.
"The case of Steven Shingler being named as an RBS 6 Nations Scotland squad player could not be left untested because of the impact on all other players," said the WRU statement.
"The WRU welcomes the IRB announcement which confirms that proper procedures were followed when informing the 2011 Wales U20 team to play France they would be solely Wales qualified at senior level after taking part in the game.
"It is important that all players informed of their potential senior selection status now or in future are left in no doubt about the authority of the regulations and protocols in place."