Dragons chairman calls for WRU cash action over player exodus
Last updated on .From the section Rugby Union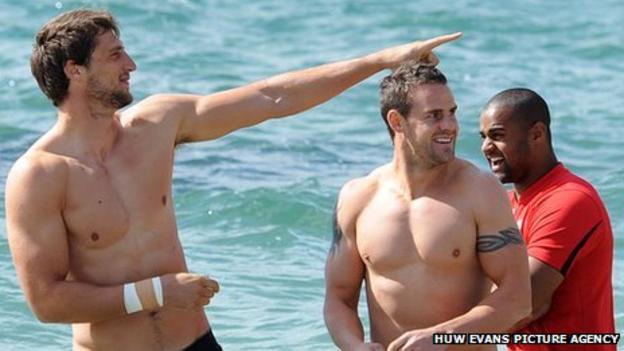 Newport Gwent Dragons chairman Martyn Hazell has called for the Welsh Rugby Union to "take responsibility" if they want leading players to stay in Wales.
Wing team-mate Aled Brew is also reportedly a Perpignan target.
Hazell said: "The WRU should take charge of it and if they want to keep players in Wales, they should be paying to keep them."
Scrum-half Mike Phillips (Bayonne), fly-half James Hook (Perpignan) and full-back Lee Byrne (Clermont Auvergne) joined up with their new French clubs after the 2011 World Cup.
Another Wales tournament squad member, prop Craig Mitchell, is at Exeter, while back-row forward Andy Powell moved from Wasps to Sale for this term.
The Scarlets have expressed fears about the "vultures" targeting rising stars such as teenage wing George North, fly-half Rhys Priestland and centres Jonathan Davies and Scott Williams.
And Cardiff Blues backs coach Gareth Baber also wants the WRU to offer more backing to the regions.
"The gap between France and [us] is tremendous," said Hazell. "I mean it's ridiculous.
"You can't blame the players - money talks. And we've got all our other players signed up for a few years so we've done our bit.
"But we're following the government stance, really - we're saying no to Europe. But there we are.
"The money [French clubs] are paying is ridiculous, but the thing is they're getting 15,000-20,000 people watching them every week and we're getting 4,000-5,000 or 6,000.
"So it's as different as chalk and cheese. And they've just got the money, that's all.
"Their squads are [worth] 10m-15m Euros. Our squads are £4m or less, so yes, it [money] talks."
However, Hazell questions whether the WRU can afford to answer the regions' call and introduce the sort of central contracts system that exists in Ireland and Scotland.
He said: "You've got to ask yourself do the WRU have the money to do it?
"And if you're going to pay a player £200,000 and he's going to get £400,000-£500,000 in France where are they going to find all that money from?
"It's not a good position to be in, I can tell you."
Hazell also admits economic uncertainty in Wales and elsewhere is affecting the Dragons and their Welsh rivals, who also have financial backers underwriting their finances.
"It shouldn't be individual people keeping Welsh rugby alive it should be a WRU decision," he added.
"I do [think] there is too much responsibility on the benefactors at the moment. As things are they can't afford to keep on throwing money at it.
"We definitely can't at the Dragons.
"The Scarlets have got some wonderful players. Are they going to hold on to them?
"What's going to happen? We all are [trying our best]. But there's only so far you can go.
"I think they've got to [WRU come up with something].
"We've all got to look at it together and we've got to find a solution and what that solution is, I don't know.
"We did our best and if we'd gone any farther we'd have bankrupted ourselves."