Foreign influx concerns Wales and Dragons lock Luke Charteris
Last updated on .From the section Rugby Union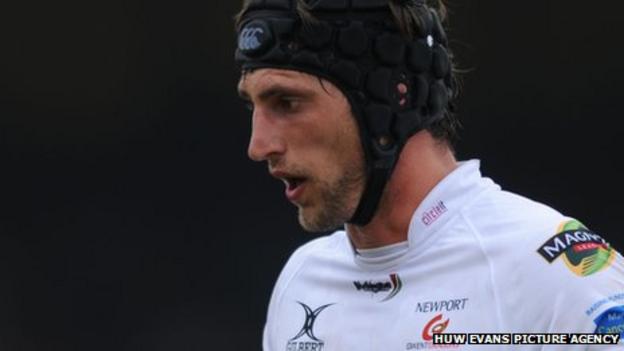 Luke Charteris says top players are leaving Wales because the regions are investing in foreign talent.
"The Welsh regions tend to want to spend their money on foreign players rather than Welsh players," he said.
"Guys who have gone to France, a lot of those guys didn't get offers from Welsh regions."
Charteris added: "Something needs to be done on that side of things otherwise more and more guys are going to play rugby overseas.
"To an extent you can understand why because the Welsh national boys are away so much of the time, whereas they get the other guys for the whole season."
Welsh internationals James Hook, Lee Byrne and Mike Phillips left the Ospreys to join French clubs at the start of the current season.
Full-back Byrne is at Clermont Auvergne, scrum-half Phillips plays for Bayonne while Hook now plays for Perpignan.
"As a player you have to consider the financial side of it; it's your job, it's your profession. From the boys I've spoken to that's not the only thing," Charteris added.
"A lot of it as well is the calibre and the quality of that French [Top 14] league is very appealing.
"I think you'll see the likes of Mike Phillips, Hooky [Hook] and Lee [Byrne]… they're going to improve as players.
"They're going to get better and better and I think that's a good thing for Wales."
Charteris says he is yet to decide on his own future, although Dragons head coach Darren Edwards is keen to see him stay at Rodney Parade.
The player's agent, Christian Abt, recently said a number of French clubs, including Perpignan, had shown interest in Charteris.
But when asked about his future Charteris told BBC Wales: "At this stage I still don't know myself.
"It makes interesting reading in the papers every day seeing a new club or something new that's come up.
"A couple of them are probably true and have had interest but a couple have been completely made up and pulled out of thin air.
"When I know something I'll certainly say but at the moment I'm concentrating on getting back fit."
Charteris will miss the Six Nations in the New Year following surgery to a wrist injury he suffered during the World Cup.
"Unfortunately it's something you get used to with rugby," said Charteris.
"I had a pretty good year last year. I didn't have any knocks or injuries.
"The frustrating thing is I think it's such a quality team [and] such a great group of boys.
"I'm disappointed to miss out on the Six Nations when I think the team are going to do really well."