Tim Visser Scotland cap in Andy Robinson's thoughts
By Jim Mason
BBC Scotland rugby reporter
Last updated on .From the section Rugby Union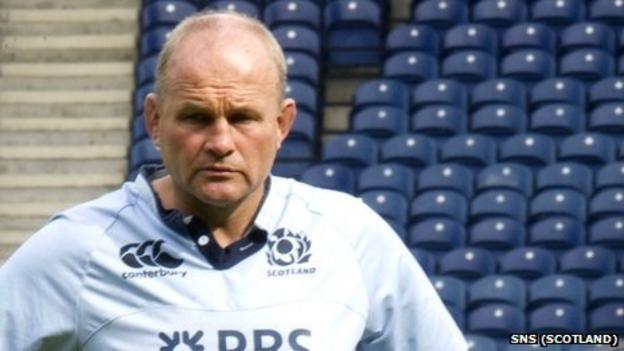 Scotland head coach Andy Robinson will consider capping Edinburgh's Dutch winger Tim Visser next year.
Robinson confirmed his interest in the player, who becomes eligible for Scotland in June, in a Twitter question and answer session on Tuesday.
"Tim qualifies in June and yes, if fit, he will be considered for the southern hemisphere tour," said the coach.
Scotland will play Australia, Fiji and Samoa on that trip, an ideal target for the try-scoring 24-year-old.
Among the popular topics in the Q&A were Scotland's recent World Cup performance and the form of Scotland's professional teams, Edinburgh and Glasgow.
And the abbreviated format of the session seemed to suit Robinson's concise interview style.
Asked what positives he could take from Scotland's World Cup campaign in New Zealand, he replied: "Team spirit and cohesion were great and performances to get into two winning positions v Arg/Eng [Argentina/England] very positive."
With Edinburgh and Glasgow playing for the 1872 Cup over the festive period, the head coach was asked by Edinburgh Supporters Club who he thought would win.
Despite having once been coach of the capital side he replied, diplomatically: "As I am now neutral I hope that they are two cracking games of rugby."
Other questions to the head coach quizzed him on the future of Scotland's 7s squad, how he relaxes before a big game and, to one questioner, he revealed that he was still having nightmares about lost restarts.
However, there were no answers from the former England head coach to enquiries concerning the recent turmoil at the RFU.