Lewis Moody says he is not motivated by money
Last updated on .From the section Rugby Union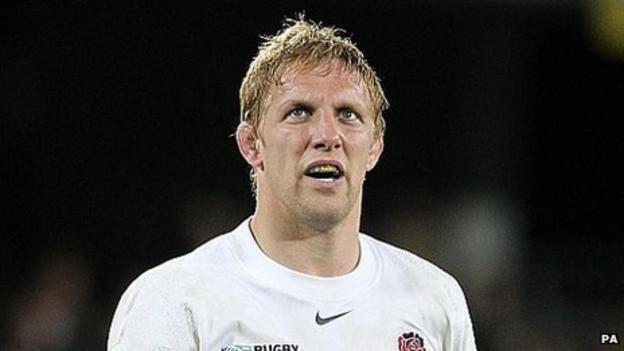 Lewis Moody says success on the field was his motivation, not money, as he defended his reign as England captain.
Leaked documents reveal senior players, led by Moody, disputed the money the squad were to be paid at the World Cup.
Elite director of rugby Rob Andrew was quoted as saying "some players were more focused on money" than rugby.
But Moody said: "I give everything on the field and have always prioritised rugby ahead of everything else, including financial reward."
The 33-year-old flanker, who won 71 caps for England before retiring after the World Cup, said he was "deeply disappointed" that the confidential reports on the team's World Cup performance were
Meanwhile, Rugby Players' Association (RPA) CEO Damian Hopley said he was "absolutely devastated" his members' trust had been "so publicly betrayed". He demanded an investigation into the source of the leak.
Moody issued a statement after the Times said he was criticised in the reports by the Rugby Football Union, the Premiership clubs and RPA into England's poor World Cup campaign.
The former captain said: "It is deeply disappointing to see players' feedback aimed at improving England rugby, and which we were promised would remain confidential and anonymous, being put in the public domain for political purposes.
"I put my body on the line for the lads, the team and England every time I played.
"I have only ever undertaken personal commercial activities in my own time and I'm comfortable I got that balance right at all times.
"Where I had to be involved in commercial conversations with the RFU it was as captain, working with the RPA, representing the best interests of the players, not for any personal gain. I do not think anyone who knows me would think differently.
"I hope the opportunity is seized to use player feedback for positive change, not negative recriminations and political games."
Moody accepted errors had been made at the World Cup.
"I am confident I did the job to the absolute best of my ability but if some of the players thought that was not enough I will have to learn to live with that," he said.
"I have always been my own fiercest critic and have already been honest that there were some things I wish I had done differently at the World Cup, but I have learnt from the experience and hope others can do the same."
Hopley said players voluntarily took part in the interviews and gave their "honest and frank assessment of England's Rugby World Cup Campaign".
"The aim was to be completely open and transparent and players should be respected for refusing to shy away from some of the problems encountered," he added.
"Players were critical of themselves, of the coaching team and of the RFU and its leadership.
"Many comments were understandably robust because they knew England had not performed as they could have and the players are committed to getting things right for the future."
Hopley said players were "assured their feedback would be totally confidential".
"If England wants to regain its status as a respected rugby nation, it is imperative that we stop the rot at the top of the game and show some much needed integrity," he said. "What example does this set to the game? It is an absolute disgrace.
"We cannot ignore that once again there has been a serious breach of confidentiality. We are demanding a detailed investigation to track down the source of the leak and deal appropriately with that person."
England full-back Ben Foden has also responded to the leak, and said players understood "there was a lot of frustration and people will want to point fingers".