Shaun Edwards tips Jim Mallinder as next England boss
Last updated on .From the section Rugby Union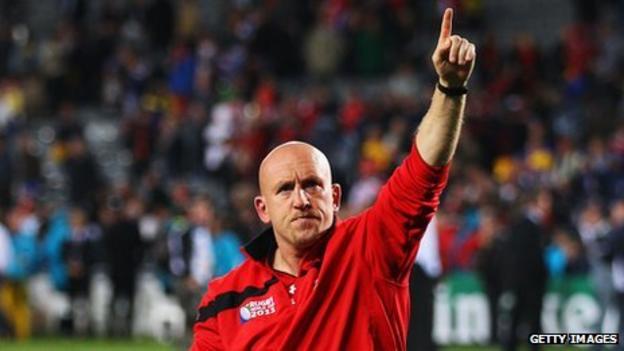 Shaun Edwards believes Jim Mallinder and Ian McGeechan could be the ideal double act to replace Martin Johnson as England manager.
He said: "We should go for the best of the guys currently coaching here, say Mallinder, alongside someone of unparalleled experience, say McGeechan.
"My guess is they'd develop as a partnership and develop England's young team at the same time."
Edwards accused the Rugby Football Union of being too focused on getting a southern hemisphere replacement for Johnson.
South African Nick Mallett, who has coached the Springboks and Italy, revealed he had turned an approach down from the RFU.
His compatriot Jake White has also been linked with the role, as have Australian Eddie Jones and New Zealander John Kirwan.
"The mindset seems to be that if you come from Australia, South Africa or New Zealand that's enough of a CV," Edwards said in his column in the Guardian newspaper.
"Kirwan, who was a fine player, only coached up here with Italy. When Jones left Saracens they were about seventh in the Premiership.
"True [Mallett] once led South Africa to 17 consecutive wins, but the last of those was in 1998. I can't accept that because someone comes from the southern hemisphere they have an advantage.
"The thinking appears to be that Twickenham goes out in the market and buys an off-the-peg winner - a White, a Graham Henry. That seems like flawed thinking."
Instead Wales defence coach Edwards, who left Wasps earlier this month after 10 years in charge, believes Mallinder is the ideal man to become England's head coach.
"To my mind, he has already got most of what it takes to be an England coach. First with Sale and now with Northampton, he has turned sides around and last season came within a fingertip of claiming the Heineken Cup.
"If he's short of anything, it's the experience in fighting the battles in the corridors of power which are part and parcel of the England job."
Edwards also criticised RFU operations director Rob Andrew, who was Johnson's line manager, yet refused to take responsibility for England's World Cup performance at a news conference on Wednesday.
"Rob Andrew has the air of a man who either is or thinks he's in charge," Edwards added. "And in that respect shouldn't he perhaps think about his own position, even if someone else isn't about to do it for him?
"Meanwhile, big men, like Johnson, take the rap."