Nick Mallett will not replace Martin Johnson as England manager
Last updated on .From the section Rugby Union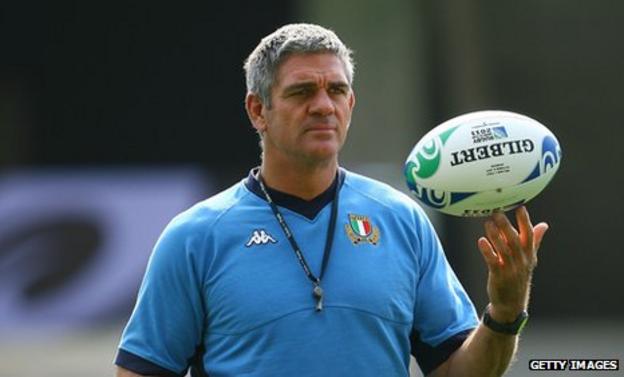 Former Italy and South Africa coach Nick Mallett has ruled himself out of the running to replace Martin Johnson as England manager.
Mallett, 55, revealed he was approached by the Rugby Football Union this week about applying for the post.
"I was interested to hear what the RFU had to say," said the South African.
"After mulling it over for a few days and discussing the opportunity with friends and family, I have decided that I will not be making myself available."
English-born Mallett, who guided the Springboks to 17 consecutive Test victories in 1997-98 and into the semi-finals of the 1999 Rugby World Cup, added: "I am happy to have returned home to South Africa after a tremendous four-year term with the Italian national team.
"We are settled in Cape Town and it is my wish to be able to enjoy time with my wife and kids after four years in Italy."
Another former South Africa coach, Jake White - who led the Springboks to World Cup glory in 2007 - also ruled himself out of contention.
His representative, Craig Livingstone, told BBC Sport: "Jake has a contract for another four years with the [Australian Super 15 side] ACT Brumbies and won't be available for the England job. It's just bad timing."
But Eddie Jones, who led Australia to the 2003 World Cup final, declared he would be interested in the England manager's job.
"You'd always be interested in coaching England," he told BBC Radio 5 live. "It has got a fantastic domestic competition, very, very good players and you have just got to get the right programme in place and they should be good enough to win the next World Cup."
The 51-year-old, who was also part of South Africa's coaching team when the won the World Cup in 2007, said he would not be put off by the chaotic state of the RFU's senior management.
"Over the last period of time England rugby has lost its way and you'd have to question the people in place now," said Jones.
"That is the challenge of getting it right. If you get it right, the benefits are absolutely enormous. That is the challenge of it and that is the exciting part of it.
"You've got to find the right style of play, just as [Sir Clive] Woodward did over that period [up to 2003], work with the clubs and ensure the players are in peak condition."
The search for the new England manager is being led by RFU director of elite rugby Rob Andrew, who is now looking to work alongside his fourth England boss, having also been at Twickenham when Andy Robinson and Brian Ashton were in charge.
England defence coach Mike Ford told BBC Radio 5 live that it was "inevitable" that Johnson's backroom team - which also comprises forwards coach John Wells, scrum coach Graham Rowntree and attack coach Brian Smith - would change once a replacement as manager took over.
"There is an air of inevitability," said Ford. "We're grown men and we understand being a coach we're there in the firing line. That's the way we like it.
"The new guy has obviously got to pick his own coaching team and I think that's right and fair. We'll see in the next few days what Rob Andrew says to us. He might want to keep us in the organisation in some way because of our experience. We'll just see."