Wales' Dan Lydiate bemoans fresh ankle injury
Last updated on .From the section Rugby Union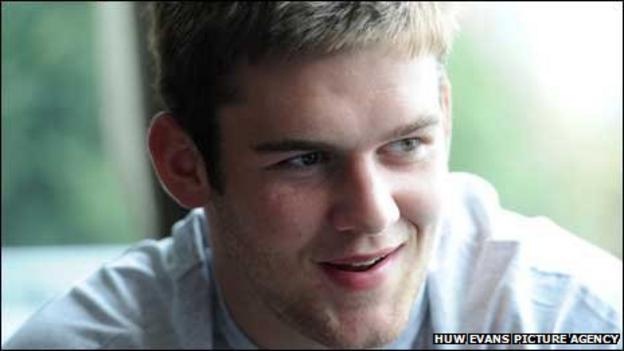 Wales flanker Dan Lydiate has insisted his current ankle injury is a fresh problem and not a recurrence of the one that almost ended his World Cup.
Lydiate went off in the Dragons' Amlin Challenge Cup win over Cavalieri Prato on Saturday with another ankle problem.
But he said: "It just happened to be the one I injured at the World Cup."
Lydiate went on to play in Wales' semi-final defeat to France and their third-place play-off loss to Australia before making his regional return in Italy last weekend.
But he was forced off in the 24th minute against Cavalieri Prato and is danger of missing Wales' 3 December Test with Australia in Cardiff.
"Danny injured the same ankle in Italy last weekend as in the World Cup," said Dragons head coach Darren Edwards.
"Whilst awaiting assessments from our medical team the assumption was that it was a recurrence of the same injury.
"However, I have now received a full medical report and it is clear that although the injury is in the same area as previously it is not the same injury.
"Dan is recovering well and we are hopeful that he will be available to play for Wales next weekend if selected.
"We are in close contact with the WRU medical team and have worked closely to manage the welfare of all of our players both during and following the World Cup."
Lydiate insists it is coincidence that he has injured the same ankle which will keep him out for a couple of weeks so Lewis Evans replaces him in the Dragons' Amlin Cup clash with Perpignan on Thursday.
"It was a freak accident," said Lydiate.
"I tried to side-step someone and as I planted, someone just drove up my ankles and hit me square in the shin. You can't plan for that and it jarred it a bit.
"It just happened to be the one I injured in the World Cup but it was nothing to do with playing too early. I was pretty keen to get back to be honest
"I get a lot of fitness from playing games so I don't like to be too far from playing."