Stephen Jones not cited over tip-tackle on Tommy Bowe
Last updated on .From the section Rugby Union
Record Wales cap-holder Stephen Jones has avoided being cited for a tip-tackle on Ospreys wing Tommy Bowe at the weekend.
The Scarlet was sin-binned in their 9-9 Pro12 draw in Swansea, prompting debate related to Wales captain Sam Warburton's red card at the World Cup.
Warburton was sent-off for a tip-tackle on France wing Vincent Clerc.
The issue left former Wales star Jonathan Davies feeling rugby union is going "soft" at the tackle.
"Clearly now it's an offence but the game is getting so soft now," said the former dual-code international.
"The kids' level I think you need to look at it and say you can't lift [an opponent in the tackle].
"But when you get to professional level I think the players are unsure of what you have to do now.
"If you tackle someone properly and drive them back and put them down on their back, their legs are up in the air.
"I've been on the end of many, many tackles and it's a great tackle but I think now it's getting a little bit too soft.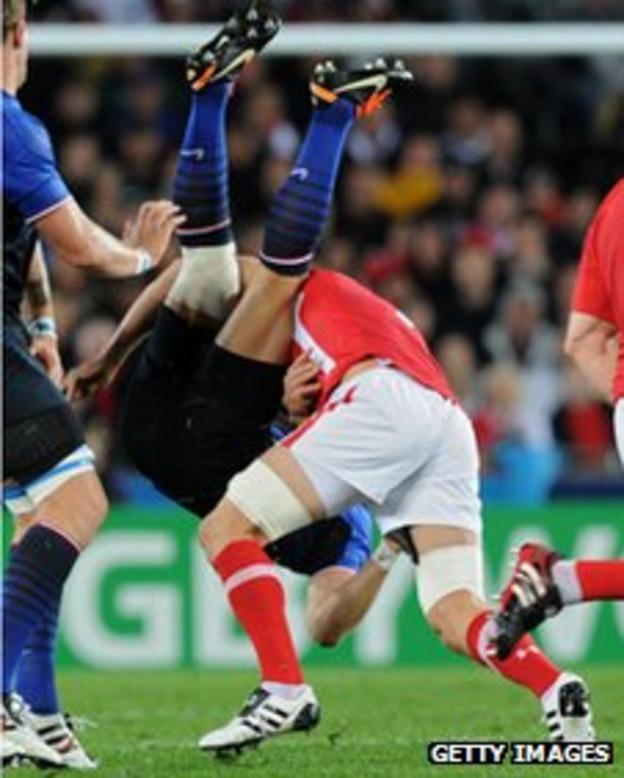 "The IRB [International Rugby Board] has got to say 'no spear tackles' where they drill the bloke into the ground.
"But if you hit someone and make a great tackle, with great technique, at the moment - as with Sam Warburton - if you drive someone and you panic and drop someone then they're uncertain."
Warburton felt the decision to send him off was correct, but his dismissal in the semi-final left Wales to play a man down for 61 minutes as they eventually succumbed 9-8 to France.
The Cardiff Blues open-side was handed a three-week ban for the incident, while Ospreys flanker Justin Tipuric got the same punishment after being yellow-carded for a tip-tackle on Munster's Ian Keatley in a Pro12 game in October.
Scarlets and Wales fly-half Jones was sin-binned by French referee Mathieu Raynal in the Libery Stadium stalemate.
But after a 48-hour wait, match citing commissioner Richard Gwynn decided not to take the issue further.
Welsh Rugby Union referees officer Nigel Whitehouse rejected Davies' claim that rugby was going soft and insisted the officials had a responsibility to ensure player safety.
"We have to outlaw anything that could cause injury," he said.
"There are occasions during a game where we have to realise it's a physical contact sport and people are going to receive injuries.
"But it is a far more physical game now at the professional end of the game."
Davies, though, argues that rugby union should take note of how rugby league polices tackles, where a clear distinction is made between upending an opponent in a tackle and deliberately 'spearing' or driving an opponent head-first into the turf.
"I did [commentated] rugby league a couple of weeks ago and the first thing they said was Sam Warburton's tackle was the best tackle of the World Cup," added Davies, speaking on BBC Wales' Scrum V programme.
"You see tackles like that week in, week out with rugby league and you don't see many people with a lot of injuries.
"All these boys are doing weights and they're so powerful and you get mismatches like the Vincent Clerc and Sam Warburton, [but] a great tackle when you get under them, lift them and drive them and put them into the ground is no problem.
"I think [Tipuric] was a good tackle, I think Stephen Jones was a good tackle and at that level they have to look [at the law].
"I've seen a spear-tackle and you know what a spear-tackle is and what isn't, where they lift and turn you and absolutely drill you into the ground.
"If they have a clear definition of that then it's a yellow card or even a red card and I know there's a safety issue here."