Martyn Thomas to step down from Rugby Football Union roles
Last updated on .From the section Rugby Union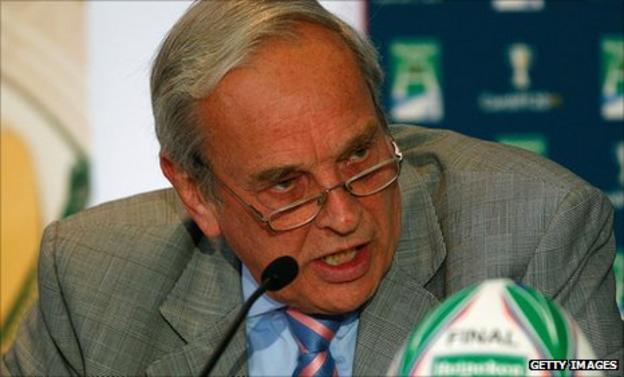 Acting chief executive Martyn Thomas is to step down from all his positions at the Rugby Football Union after a meeting of the management board.
The former RFU chairman is also leaving as chairman of the organising committee for the 2015 World Cup in England.
Thomas will oversee the transition at the RFU until leaving on 16 December.
He survived a vote of no confidence in September after threatening legal action should a report into the exit of predecessor John Steele be made public.
Chief financial officer Stephen Brown will take over as acting chief executive in December ahead of a permanent appointment, while a review led by Fran Cotton into England's performance at the Rugby World Cup has been scrapped.
Thomas said in a statement: "It has been an honour to be part of the Union, most particularly for the past six months as acting chief executive where I have been lucky enough to get to know better the RFU staff who work tirelessly for the good of the game.
"Stephen Brown for one has been a phenomenal addition to the executive team and, having got to know him very well over the last few months, I have total faith that he will provide the stability and leadership needed at this important time."
The former England centre Simon Halliday, who is a former RFU council member, told BBC Radio 5 live that changes had to be made at the top of English rugby for it to prosper in future.
He said: "You can draw a huge line in the sand now. It's tempting to look back over the last seven years of his tenure, but I prefer to look forward and regard this as the first step to getting English rugby back to the sort of state it should be in."
Thomas, who was elected as RFU chairman in 2005, had come under increasing pressure from the clubs that make up the body's membership.
The 67-year-old was criticised by the RFU disciplinary officer Judge Jeff Blackett in his investigation into Steele's resignation.
Steele left following clashes with the RFU board over the remit of a new elite performance director.
A series of changes in the job description were interpreted by many as in-fighting over the suitability of World Cup-winning coach Sir Clive Woodward for the post.
It was reported that 130 clubs sent a letter to current chairman Paul Murphy threatening to call a special general meeting to remove Thomas if the 12-man management board failed to ensure his departure on Wednesday.
After the announcement of Thomas' departure Murphy said in an RFU statement: "As a sport we face some exciting and challenging times leading up to 2015, which will be a massive opportunity for the game in this country and as a Union it is important that the leadership structure is in place as soon as possible.
"The recruitment of a new chief executive is well under way with an appointment expected by 14 December."
The future of England team manager Martin Johnson remains in doubt.
Despite rugby operations manager Rob Andrew stating that a decision would be made "as quickly and as openly as possible" in the wake of the team's quarter-final exit to France, it has not been announced if Johnson's contract will be extended beyond December.
On the field England do not have a captain after the international retirement of regular skipper Lewis Moody, although the team's next match is not until the meeting with Scotland in the Six Nations on 4 February.