Three-week ban for Gloucester's Eliota Fuimaono-Sapolu
Last updated on .From the section Rugby Union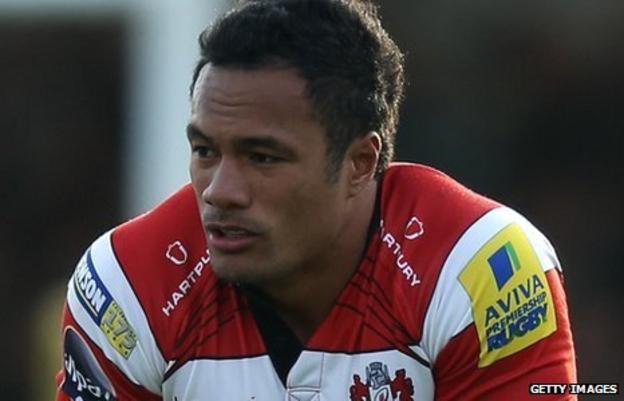 Gloucester and Samoa centre Eliota Fuimaono-Sapolu has been banned for three weeks by the Rugby Football Union for several comments made on Twitter.
He was adjudged to have made "critical or sarcastic comments" about the rugby disciplinary process, World Cup and International Rugby Board.
Charges relating to remarks made about Saracens' Owen Farrell after their game on 29 October were dismissed.
The 31-year-old's suspension runs until 28 November.
An RFU statement from panel chair Daniel White read: "The Twitter forum is not one for 'banter' and is not the equivalent of a clubhouse discussion. It is in fact a public forum, and for that reason players should be guarded in what is said and therefore endorsed.
"We note that over 13,000 people are registered to follow Mr Fuimaono-Sapolu on Twitter. It should be noted that young people, those learning the sport and the public at large look to people in his position and for these reasons we have imposed a sentence designed to deter others who may be tempted to act in this way."
Fuimaoino-Sapolu was recently handed a six-month suspended ban for his Twitter rant during the World Cup in New Zealand.
He was charged with misconduct after he accused Welsh referee Nigel Owens of being racist and biased following Samoa's defeat by South Africa.
It was agreed his sentence would be suspended for two years if he retracted his comments and apologised to Owens, completed at least 100 hours' rugby community work in Samoa, and pass a recognised referee's course.
The IRB stated that the suspension will be activated immediately if "the player fails to comply with any of the conditions or makes any public criticism which results in a proven misconduct offence regarding a match official, the IRB or the disciplinary process".
The RFU statement added: "The panel is keen to stress that this decision stands alone and that it is a matter for the IRB to determine whether the actions of Fuimaono-Sapolu constituted a breach of the conditions of that sanction."
Fuimaoino-Sapolu had already given a warning before his comments about Owens, after he compared the IRB's treatment of tier two nations to "slavery, the holocaust and apartheid".