Redruth coach Tony Cook disappointed with Hertford loss
Last updated on .From the section Rugby Union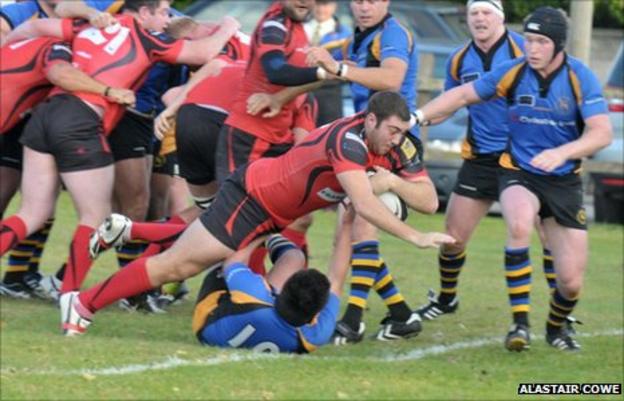 Redruth head coach Tony Cook has described his side's 34-22 loss at Hertford as 'extremely disappointing'.
Despite taking a 10-7 lead after 17 minutes through Tom Duncan's penalty Mike Allan scored two tries for Hertford and Rob Schillaci got another to give them a 26-10 half time lead.
Paul Foster got another for Hertford before Craig Williams and Owen Hambly scored consolation tries.
"We didn't really get into the game and that was disappointing," Cook said.
"It's extremely disappointing, especially as we turned things around at home last week," he added to BBC Radio Cornwall after the National Two South clash.
And he said Redruth's players were the masters of their own downfall at times.
"Some people were trying a little bit too hard at times.
"We turned the ball over and it was really crying out for us to kick it into the corners to pin them down and try and give us a platform to go again.
"Experienced players sometimes were showing long passes that weren't going to hand and we'd turn the ball over again."
Cook says Redruth's failure to properly pay their players is having an effect on the side.
"Some of the boys are working overtime during the week so they can't make as many training sessions as they'd like to.
"In these times they need to make their money elsewhere and it has had an effect on our training.
"I wouldn't question any of their commitment to the cause once they're on the field," he concluded.