Martin Johnson 'not handed RFU deadline' insists Martyn Thomas
Last updated on .From the section Rugby Union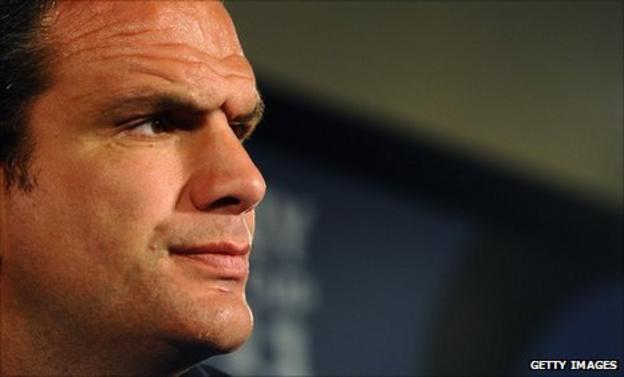 England boss Martin Johnson has not been given a deadline to decide his future, says acting Rugby Football Union chief executive Martyn Thomas.
But Thomas told BBC 5 live rugby: "He was never, ever set a deadline."
Thomas added it was just an "informal" enquiry asking Johnson to "let us know" when he had made a decision.
Thomas said he had conveyed that message to Rob Andrew, the RFU's professional rugby director, who is Johnson's line manager.
"What I'd asked Rob Andrew to do, and also communicated to Martin Johnson was, 'look, Martin, your contract ends at the end of the 31st of December. It will be helpful for the RFU to know, do you wish to be reconsidered to be reappointed, or not?' added Thomas.
"That's all that he's been asked."
Thomas also revealed that two high-ranking figures from other sports are going to join the review conducted by Fran Cotton into England's poor World Cup campaign.
The RFU acting chief executive would not reveal their names but said they both operated at the "elite performance" level and had "absolutely proven track records".
"They will give us the edge in making sure that we independently review what happened and come up with recommendations for the future," he said.
Cotton's review is just one of three under way into English rugby union.
But former England centre Simon Halliday, who is also an ex-RFU council member, said that the only way that the RFU would get a successful national team was if they let the professional side of the sport run that part of the game.
"The simple fact is that there's only one entity that is capable of conducting a review and coming out with the right answers, and that is the Professional Game Board," he told BBC Radio 5 live.
The board is made up of the Premiership clubs, the Championship clubs, the professional players' association and the elite rugby department of the RFU, which oversees the England team.
"That group has all the stakeholders you need."
Halliday also called on grassroots members of the RFU to make their voices heard if they wanted change at the top of the organisation.
"The grassroots clubs are furious at what the shop window is doing. If the clubs and the people listening to all of this think that what we have is acceptable, then do nothing," he said.
"If you want to say what you think, turn up to a meeting and say what you think about the current structure."