New Zealand hero Stephen Donald delights in 'unreal' World Cup journey
Last updated on .From the section Rugby Union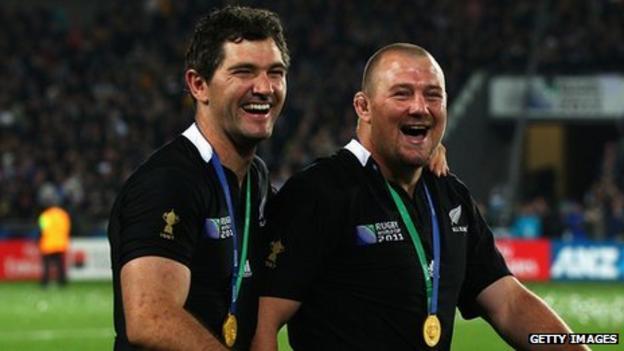 New Zealand fly-half Stephen Donald says kicking the winning points in the having started the tournament as fourth choice was "unreal".
The 27-year-old, who two weeks ago was enjoying a fishing holiday, kicked what proved to be the match-winning penalty.
"My preparation wasn't ideal but it was an unreal experience," he said after his country's first title since 1987.
"To pretty much come from nowhere just feels funny. It hasn't sunk in yet."
Donald had expected by now to be linking up with but as New Zealand's fly-half injury list lengthened during the tournament, he found himself .
"I was out with a mate white-baiting. We'd had a good day, hauling in around 11 kilos, but it got a lot better," Donald said.
"I didn't get any of Ted's [Graham Henry's] calls because my phone was switched off, and it was only when I spoke to someone else later I found out they had been trying to contact me. Luckily, I had his number in my phone."
Star fly-half Dan Carter was the first casualty of the All Blacks' injury jinx, damaging his groin in a training session during the group stages, and Donald was subsequently called up as cover for Carter's replacement Colin Slade, who lasted only 33 minutes of the quarter-final win over Argentina before succumbing to a similar injury.
Even then, Donald only came off the bench at Eden Park for yet another injured number 10, Aaron Cruden.
But his presence proved vital when - after Tony Woodcock's earlier try - he kicked the 45th-minute penalty that edged his side to a narrow victory.
Donald said: "You always dream about things like playing in World Cups, but as number four in line you start to give that up a bit. But when I got the call I felt like the dream just got that much closer to reality again.
"To pretty much come from nowhere and find yourself playing in a World Cup final is an unreal experience - it just feels funny. It hasn't sunk in yet, and it's the same for the rest of the guys. They were just sitting around the changing room, not moving much and not saying much.
"The coaches said to me to be ready because it could come down to me having to kick the winning goal, and that is exactly how it panned out."
The All Blacks will now embark on a three-day victory tour, starting in Auckland on Sunday, before moving on to Christchurch on Tuesday and Wellington on Wednesday.
For the latest updates and reaction to this story, read Sportsday Live. Have your say on Twitter via the hashtag #bbcsportsday.