Tindall & Fuimaono-Sapolu given clean slate by Redpath
Last updated on .From the section Rugby Union
Bryan Redpath says criticised World Cup stars Mike Tindall and Eliota Fuimaono-Sapolu will be given clean slates on their return to Gloucester.
Tindall was condemned for his off-field conduct while on duty with England in New Zealand.
"The important part is that we welcome them back and forget what's gone on," coach Redpath told BBC Points West.
"There's been a lot of goings on but I'm only interested in a player coming back to pull on the Gloucester jersey and me saying 'this is how I want you to be, this is how the team is and this is what you fit into'.
"What's happened here over the past two months is what is important to me. "
Fuimaono-Sapolu will not be be in the squad for Gloucester's LV= Cup clash with Leicester on Friday but Redpath will have fellow centre Tindall available.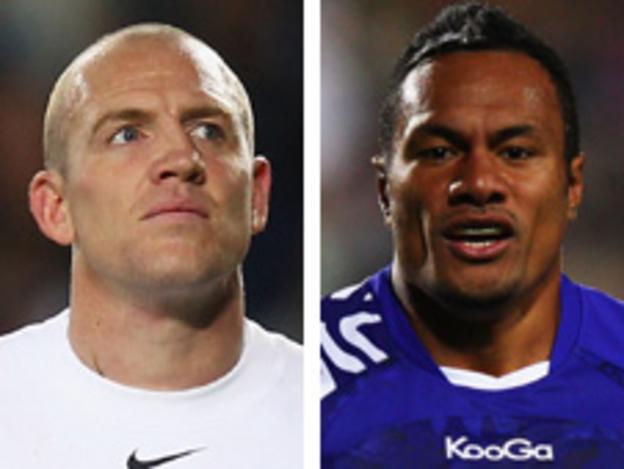 They opened their defence of their title with a 58-27 win over Sale last Saturday and Redpath chose to use four other World Cup stars - Scott Lawson, Jim Hamilton, Alasdair Strokosch and Rory Lawson - as replacements.
"It was a bench full of players with some disappointment from the World Cup," added Redpath.
"All of them had a point to prove as all of the guys who have come into their positions have done well.
"Eli won't be involved - only because he doesn't arrive back until Thursday morning, so it would be crazy to play him on a Friday.
"Mike is already back in and potentially I may use him. What I will do is assess what we've got and whether it's right for the team.
"It's not necessarily what's right for the individual, it's what's right for Gloucester.
"Last week we decided to put four of them on the bench and that's how I'll look at it - on the whole it's what's right for the team."