Cornish Pirates discuss ground share with Plymouth Argyle
Last updated on .From the section Rugby Union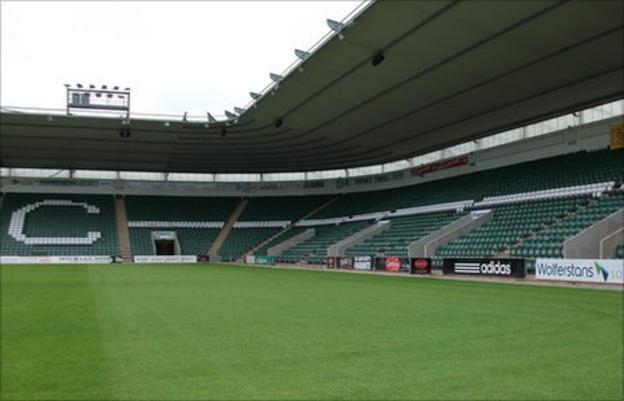 Cornish Pirates are in discussions with Plymouth Argyle Football Club about a possible ground share.
The Mennaye Field in Penzance does not meet Premiership standards and the nearest ground which does is Argyle's.
The Pirates had hoped to move to a new stadium in Cornwall but work has yet to start on the scheme.
"There is no ground in Cornwall that would be compliant with the regulations," said Pirates chief executive Rod Coward.
The Pirates had to tell the RFU their planned ground for the 2012/13 season by 31 August 2011.
They nominated the new stadium but also had to name a temporary ground should it not be built.
Among the Premiership's rules on grounds is a minimum capacity of 10,000.
"The temporary ground, just like the permanent ground, has to meet certain criteria as laid down by the Professional Game Board, so we had to look outside Cornwall for such a temporary ground," Coward told BBC Radio Cornwall.
"If approval is given for the stadium, it's highly unlikely it will be delivered for 2012.
"Whilst we've explored every possibility, the closest ground to Cornwall which is compliant with the regulations is Home Park."
The Pirates were beaten in the Championship play-off final by Worcester at the end of last season but even had they won, they would still not have gone up as they did not have a suitable ground.
"What we're doing is for the good of the Cornish Pirates and for rugby in Cornwall in particular," Coward added.
"If we did not nominate a temporary ground and if a stadium were not delivered for September 2012 it would mean we could not play in the Premiership next season.
"What we're doing is trying to achieve Premiership rugby in Cornwall and to not nominate a temporary ground would effectively disqualify us from that ambition."