Rugby World Cup 2011: Jeremy Guscott's semi-final analysis

By Jeremy Guscott
Ex-England and Lions star
Last updated on .From the section Rugby Union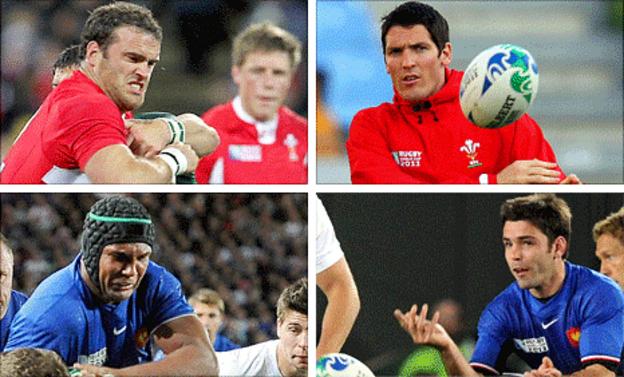 THE CONTEXT - WHERE ARE WE AT IN THE 2011 WORLD CUP?
We have reached the penultimate weekend of the tournament and there are four teams left in with a chance.
Wales face France on Saturday, while hosts New Zealand take on trans-Tasman rivals Australia on Sunday.
They are actually the four teams who reached the semi-finals in the inaugural World Cup back in 1987, although then New Zealand played Wales and Australia tackled France.
Wales' record against France is good - they lead 43-42, with three draws - but France have won eight out of the last 10 games between the two and so, psychologically, France should have the edge.
But Wales have been in great form in reaching their first semi since 1987 and have a superb chance of a first ever World Cup final.
KEY PLAYERS - WHO ARE THE MAIN MEN IN AUCKLAND?
Jamie Roberts has been one of the stand-out players throughout the tournament. The 6ft 4in (1.93m), 17st 4lb (110kg) Wales inside centre has come to terms with what he is best at and now has a clear idea of what his role is - to smash his way over the gain line.
If he cannot find space to run into then it is taking two, three, sometimes four defenders to bring him down and his play has enabled Wales to get on the front foot and has set up the fine performances they have been producing in New Zealand.
There is no doubt the absence of fly-half Rhys Priestland through injury is a loss for Wales because he has linked very well with Roberts, but the sign of a good side is that you make a change and everything continues as it has been going.
There is bound to be a slight difference because replacement number 10 James Hook does not think the same as Priestland, but the tactics and the strategy will still be the same.
I do not think Hook is as tactically astute as Priestland in the kicking department, but he has a superior running game - he will be able to see a gap and go through it.
It will be interesting to see how Roberts can play off Hook. I think Hook will have to rein himself in to adapt to the way Wales have been playing. He will not be able to do too much individual stuff because when he has done that in the past, the other players have found it hard to read and play off him.
One thing that will be different is that he presents more of a threat to France flanker Thierry Dusautoir. The French captain would not have been too worried about Priestland's running threat and could have focused purely on Roberts. Now he will have to keep tabs on both Hook and Roberts, and that can only benefit Wales.
But Wales do not just have their twin threat in the 10-12 channels, they also have Jonathan Davies, George North - in fact that whole Wales back line is dangerous.
France's key man is scrum-half Dimitri Yachvili. He is carrying a bit of an injury and will not be taking the goal kicks but Morgan Parra at 10 is more than capable of doing that - he is deadly with the boot.
Vincent Clerc and Maxime Medard out wide are also big players for France. Clerc, one of my players to watch before the tournament, is the joint leading try-scorer, while Medard has made some brilliant runs and caused trouble in every game he has played.
The Welsh backs and open-side Sam Warburton will have to be very wary of them but I do not expect Wales to miss as many tackles as England did.
THE BUILD-UP - WHAT SHAPE IS EACH TEAM IN?
France have been in terrible form at this tournament, being hammered by New Zealand and then suffering a humiliating defeat by Tonga, but they will be looking to build on their improved performance against England.
France have always had one big game in every World Cup, and I would not consider the win over England to be either a big game or a brilliant performance.
They will still believe they can play much better and Wales will certainly know the French players have been performing a little bit below par.
I do not think Wales are that concerned, though, because they have been superb in New Zealand.
Wales will focus on what they have got to do, and let France worry about them instead.
TACTICS - WHAT GAME PLAN CAN WE EXPECT FROM THE TWO SIDES?
Wales will look to deliver the pacy, skilful game they have produced to such effect so far, with Roberts and the back row giving them go forward and creating space for their dangerous runners to cut loose.
France will look to get their powerful forwards on the ball and to get their off-loading game going - they are great at passing out of the tackle - but they are going to find it difficult against this Welsh side because they are fit and will tackle all day.
In the past France might have hoped to outmuscle Wales, but that will not be the case in Auckland.
France traditionally have a great scrum and with prop Nicholas Mas back they certainly performed better against England, but in my view Wales have the best two props in the world in Adam Jones and Gethin Jenkins.
PREDICTION - WHO IS GOING TO REACH THE FINAL THEN?
On form, Wales should win this game. The biggest test for them is psychological because they are playing well. They are making very few errors, they are getting over the gain line, they are playing front-foot rugby, their defence has been very good and they are very fit.
They know they are in a purple patch of form at the moment and if they get anywhere near that form they will beat France. If they play to their ability, France have got to step up their performance 30% from where they have been so far at this World Cup to compete.
I expect Wales to win by about seven points and reach their first ever World Cup final.
THE SECOND SEMI - HOW IS THAT ONE GOING TO GO?
We are in for a cracking game on Sunday when the top two teams in the world rankings meet - I think it is going to be an explosive encounter.
Both teams have attractive backlines and both packs are very technically gifted. The two teams both play very good rugby.
International rugby recently, and especially in this World Cup, has been all about the breakdown, and we saw how brilliantly Australia open-side David Pocock played against South Africa - once Heinrich Brussow went off, it was Pocock's game.
His All Blacks opposite number, New Zealand captain Richie McCaw, is carrying an injury and we will find out how bad it is on Sunday, because he is going to have to play his best to keep Pocock in check.
Australia have to have the psychological edge because they won the last time the two sides met in the Tri-Nations, but New Zealand have not lost at Eden Park since 1994 so I am going to pick the All Blacks to edge it and reach their first final since, amazingly, 1995.