Rugby World Cup 2011: Nallet backs France to knock England out
Last updated on .From the section Rugby Union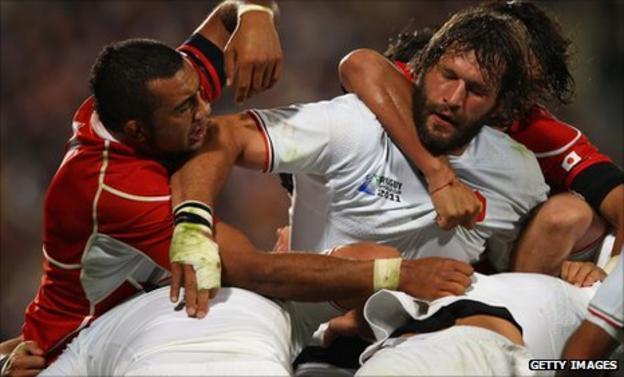 France lock Lionel Nallet believes his team are ready to "save our honour" at England's expense in Saturday's Rugby World Cup quarter-final.
Their tournament has been beset by infighting and poor performances on the field.
They were beaten 19-14 by Tonga in a final pool game that scrum-half Morgan Parra described as "rubbish".
But Nallet said: "There's a lot of motivation, everyone wants to try to save our honour in this match."
Coach Marc Lievremont, who will be replaced by Philippe Saint-Andre after the tournament, has upset several of his players by criticising them in post-match press conferences.
On Sunday they held a "no holds barred' bonding session and a hard-tackling training session the following day designed to let off the steam that has been building since the scrappy opening win over Japan.
Nallet is well aware that England have eliminated France from the past two World Cups and he also knows that, at 35, this will be the final time he plays in the sport's biggest international tournament.
The lock said: "We still have a right to believe. We're still here. [We must] stop asking questions, stop saying that training's too long, stop saying that things aren't going well.
"We live together, we like each other, and maybe we didn't want to be aggressive toward one another. We weren't aggressive on the field, either."
Lievremont scheduled a meeting to enable players to speak honestly, something several members of the squad felt had been missing throughout the tournament.
"Everyone wanted to say 'I got it wrong'," said Nallet. "Since we've arrived in New Zealand we haven't had the mentality to conquer anything whatsoever.
"Everyone wanted to take their share of the blame and tell the others they will be ready this weekend."
France's defence coach Dave Ellis played down the extent of the internal problems, both within his own squad and those experienced by England, saying: "I think certain things that have been mentioned in the press have been taken out of context.
"We had a meeting on Sunday and since then it's all been good, it's been good the whole time really.
"I think there have been a couple of incidents there that have been blown out of all proportion. I know most of the English boys very well and they're surprised by it all as well."
England have the edge going into Saturday's quarter-final, even though they themselves have yet to hit top form in New Zealand.
But Julien Pierre, who is among the replacements for the game, believes the week's events may give France the mental advantage.
"We spoke among men and told each other things," Pierre said. "Maybe that's what was missing since we arrived, working for the team and for the jersey. It's a shame that we need to have our backs to the wall to respond."