Redruth's Nick Simmons plays last game for a year
Last updated on .From the section Rugby Union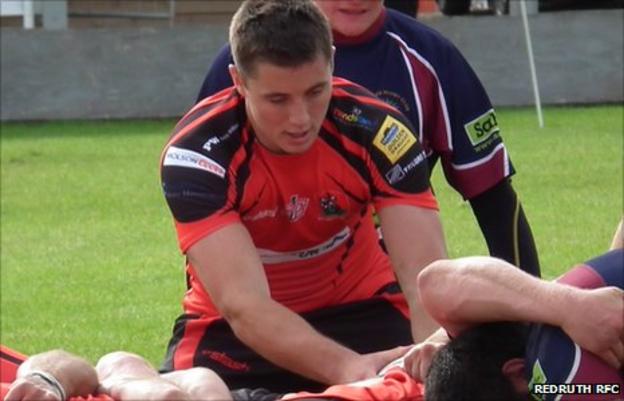 Redruth director of rugby Dave Penberthy says scrum-half Nick Simmons' exit from the club will be a big loss.
The 22-year-old, who was man of the match as Redruth beat Shelford 33-10 in Saturday's National Two South opener, is leaving the side to go travelling.
Penberthy told BBC Radio Cornwall: "Nick going is a big loss, not just as a player but as a person as well."
Simmons said: "I've been thinking about it for a long time, it's something I need to do now while I'm young."
And Penberthy added that although he will miss Simmons, he has got people lined up to replace him.
"We've got Matt Shepherd here from St Austell and we've got Greg Goodfellow.
"We're just trying to finalise his (Goodfellow's) release from his club in New Zealand there's an International Rugby Board clearance that's outstanding there so we're just waiting for that."
Simmons, who expects to be back at the Recreation Ground in 12 months, added: "I'm going to miss the community of the rugby club, it's brilliant down here."