Aaron Ramsey offers support to Wales' Morgan Stoddart
Last updated on .From the section Rugby Union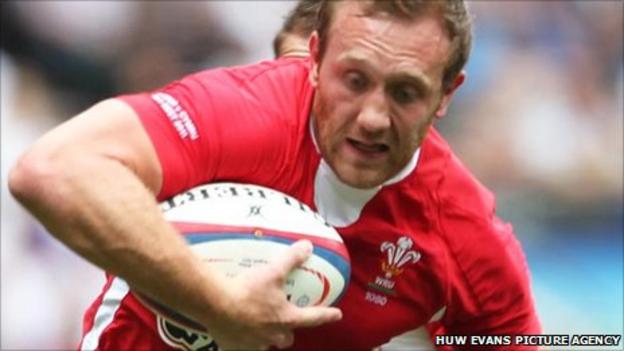 Arsenal and Wales midfielder Aaron Ramsey has offered words of encouragement to injured Wales rugby player Morgan Stoddart.
The 26-year-old Scarlets full-back suffered a broken leg after he was tackled by England's Delon Armitage during Wales' 23-19 loss at Twickenham.
Ramsey, who sustained an horrific broken leg in February 2010, has sent Stoddart a message of support.
"I've been through the same thing," he said. "Hopefully he gets well soon."
Stoddart will miss the World Cup in New Zealand in the autumn after the injury in the first of Wales' three pre-tournament warm-up matches.
It happened in the 48th minute at Twickenham, after he had gone from the substitutes' bench to the starting line-up in a late pre-match reshuffle following an injury to fly-half Stephen Jones.
Stoddart had surgery in a London hospital on Sunday and returned to Wales on Tuesday. Wales say it is impossible to say at this stage how long he will take to recover.
Arsenal midfielder Ramsey suffered fractures to the tibia and fibula of his right leg following a tackle by Stoke's Ryan Shawcross during a Premier League game.
The 20-year-old returned to first team action with the Gunners following loan spells at Nottingham Forest and Cardiff City.
And Wales captain Ramsey believes Stoddart can also make a full recover from injury to return for club and country.
"Hopefully with the right people around him and the right support he can make a full recovery from it and come back to the same level," he said.
"It can be a lonely period. But hopefully he has the right support and his family and his friends all stick around.
"I'm sure with the right people around him he will make a full recovery."