Euro Wembley date awaits Ospreys against Saracens
Last updated on .From the section Rugby Union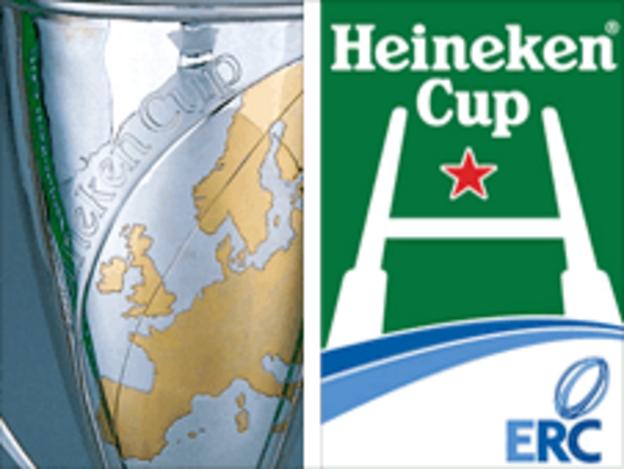 Ospreys will be the first Welsh region to play at Wembley when they take on Saracens there in a Heineken Cup game next season.
The mouthwatering Pool 5 clash on 10 December is the pick of the fixtures, which were released on Wednesday.
Cardiff Blues will be the first Welsh region in action when they visit Racing Metro 92 on Friday, 11 November.
Scarlets are at home the next day to Castres Olympics when Ospreys host Biarritz Olympique.
And Ospreys director of coaching Scott Johnson is delighted to welcome the French club to the Liberty Stadium on a Saturday afternoon.
"Who couldn't be excited by this fixture list?" said Johnson.
"It's fantastic, a massive home game to kick-off with against a great side who we were involved in a great match with in the 2010 quarter-final, a year when they got to the final.
"What's best about it is it is a Saturday afternoon, traditional rugby time, and there will be a big crowd here anticipating another cracker.
"Treviso will be another difficult test, and then in December, we've got the chance to go head-to-head with the best in England over two weekends.
"I know that our fans will be looking at that [the Wembley] weekend in particular, and who can blame them? We'll be aiming to ensure that by the time we get to the final two fixtures in January it will be all to play for."
ROUND 1
FRIDAY, 11 NOVEMBER, 2011
Pool 2 Racing Metro 92 v Cardiff Blues 2100 GMT
Pool 6 Harlequins v Connacht Rugby 2000 GMT
SATURDAY, 12 NOVEMBER, 2011
Pool 1 Scarlets v Castres Olympique 1500 GMT
Pool 1 Munster v Northampton Saints 1800 GMT
Pool 2 London Irish v Edinburgh 1330 GMT
Pool 3 Montpellier v Leinster (Stade de la Mosson) 1430 GMT
Pool 4 Aironi Rugby v Leicester Tigers 1430 GMT
Pool 4 Ulster Rugby v ASM Clermont Auvergne 1540 GMT
Pool 5 Ospreys v Biarritz Olympique 1540 GMT
SUNDAY, 13 NOVEMBER, 2011
Pool 3 Glasgow Warriors v Bath Rugby 1245 GMT
Pool 5 Saracens v Benetton Treviso 1500 GMT
Pool 6 Toulouse v Gloucester Rugby 1600 GMT
ROUND 2
FRIDAY, 18 NOVEMBER, 2011
Pool 1 Northampton Saints v Scarlets 2000 GMT
Pool 2 Cardiff Blues v London Irish 2000 GMT
Pool 2 Edinburgh v Racing Metro 92 2000 GMT
Pool 4 ASM Clermont Auvergne v Aironi Rugby 2100 GMT
SATURDAY, 19 NOVEMBER, 2011
Pool 1 Castres Olympique v Munster 1640 GMT
Pool 4 Leicester Tigers v Ulster Rugby 1800 GMT
Pool 5 Biarritz Olympique v Saracens 1430 GMT
Pool 5 Benetton Treviso v Ospreys 1430 GMT
Pool 6 Gloucester Rugby v Harlequins 1540 GMT
Pool 6 Connacht Rugby v Toulouse 1800 GMT
SUNDAY, 20 NOVEMBER, 2011
Pool 3 Leinster v Glasgow Warriors 1245 GMT
Pool 3 Bath Rugby v Montpellier 1500 GMT
ROUND 3
FRIDAY, 9 DECEMBER, 2011
Pool 2 Cardiff Blues v Edinburgh 2000 GMT
Pool 4 Ulster Rugby v Aironi Rugby 1930 GMT
Pool 6 Harlequins v Toulouse 2000 GMT
SATURDAY, 10 DECEMBER, 2011
Pool 1 Scarlets v Munster 1540 GMT
Pool 1 Castres Olympique v Northampton Saints 1430 GMT
Pool 2 Racing Metro 92 v London Irish 1640 GMT
Pool 5 Benetton Treviso v Biarritz Olympique 1430 GMT
Pool 5 Saracens v Ospreys (Wembley Stadium) 1800 GMT
Pool 6 Connacht Rugby v Gloucester Rugby 1330 GMT
SUNDAY, 11 DECEMBER, 2011
Pool 3 Glasgow Warriors v Montpellier 1245 GMT
Pool 3 Bath Rugby v Leinster 1245 GMT
Pool 4 ASM Clermont Auvergne v Leicester Tigers 1600 GMT
ROUND 4
FRIDAY, 16 DECEMBER, 2011
Pool 2 Edinburgh v Cardiff Blues 2000 GMT
Pool 5 Ospreys v Saracens 2000 GMT
Pool 5 Biarritz Olympique v Benetton Treviso 2100 GMT
SATURDAY, 17 DECEMBER, 2011
Pool 2 London Irish v Racing Metro 92 1500 GMT
Pool 3 Montpellier v Glasgow Warriors 1640 GMT
Pool 3 Leinster v Bath Rugby (Aviva Stadium) 1800 GMT
Pool 4 Leicester Tigers v ASM Clermont Auvergne 1330 GMT
Pool 4 Aironi Rugby v Ulster Rugby 1430 GMT
Pool 6 Gloucester Rugby v Connacht Rugby 1540 GMT
SUNDAY, 18 DECEMBER, 2011
Pool 1 Munster v Scarlets 1245 GMT
Pool 1 Northampton Saints v Castres Olympique 1500 GMT
Pool 6 Toulouse v Harlequins (Le Stadium) 1600 GMT