Former RFU chief Francis Baron says board should quit
Last updated on .From the section Rugby Union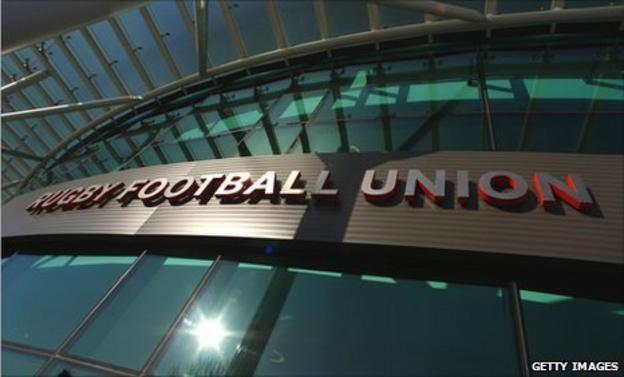 Former Rugby Football Union chief Francis Baron says he is angry at the way the organisation is being run.
Earlier this week, the RFU chose not to publish a report by Judge Jeff Blackett into the ousting of former chief executive John Steele.
Baron told BBC Radio 5 live: "The board is in a state of total denial. Nobody is accepting responsibility.
"When there is a horrendous sequence of events on your watch, then you do the honourable thing."
Last Sunday, the 61 members of the RFU council gathered to discuss the findings of a report that they had commissioned.
Blackett, the RFU's disciplinary officer, had been asked to investigate the events of the preceding months, including the recruitment - and sacking - of Steele as chief executive and the attempts to appoint a performance director.
Blackett led a four-man panel in the investigation, which involved more than 65 one-to-one interviews and written submissions, plus more than 100 RFU documents.
The findings were highly critical of the role played by the RFU management board but especially of the chairman Martyn Thomas.
Blackett recommended Thomas resign as chairman, along with every member of the management board, except Bill Beaumont. Thomas did step down but retained his role as acting chief executive. The board survived a vote of no confidence by the council members.
Baron told BBC rugby reporter Alastair Eykyn: "I left a financially strong and healthy union. We were operating to high standards of governance. And we had a strong and stable professional management team.
"Looking at it now, it seems that has all been wrecked in just 12 months. I cannot recall any parallel situation. I'm very disappointed that people haven't done the honourable thing. I would have expected that to have happened."
Baron fears that unless the RFU quickly clean up their act, the International Rugby Board might consider stripping England of their right to host the 2015 World Cup.
He said: "They must be thinking that England's governing body can't manage its own business and will be worried about risking the RFU managing the 2015 tournament. That would be horrendous."
RFU protocol dictates a minimum of 60 days before a new chairman can be elected, while it is likely that the process of recruiting a new chief executive will take much longer.
With the Rugby World Cup starting in New Zealand on 9 September, England could begin the tournament without any executive posts filled at Twickenham.