Mike Phillips key player for Wales, says Thinus Delport
Last updated on .From the section Rugby Union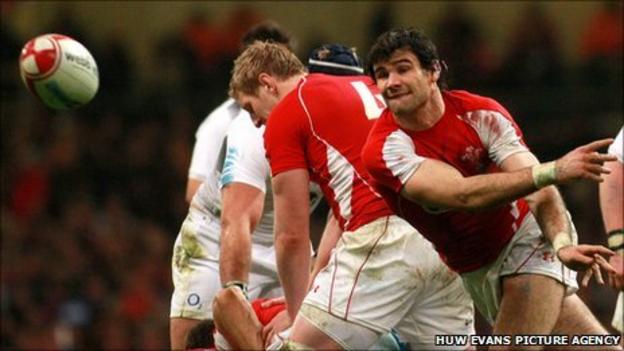 Former Springboks full-back Thinus Delport says Mike Phillips' suspension from the Wales squad is a boost for South Africa ahead of the World Cup.
The 28-year-old had been named in a 45 man provisional squad for the World Cup, where they will face South Africa.
"It's good news for us because Mike is such a key part to the Welsh structure," Delport told BBC Sport.
"He adds so much to the Wales team and he's definitely one of the stand-out players.
"To have one of the stand-out players out of the set-up would be advantageous for the South Africa set-up.
"He offers a lot of physicality, especially round the breakdown. He reminds me a lot of Joost van der Westhuizen when he played for South Africa.
"He's really aggressive in the defence and especially against a team like South Africa you're going to need that physicality and aggressiveness going into the contact."
Phillips' suspension is the latest off-the-field incident to hit the Wales camp in recent months.
Fellow squad members Andy Powell and Bradley Davies have also attracted unwanted headlines for the wrong reasons.
And Delport, capped 18 times by his country, believes the Springboks - who face Wales in their World Cup opener on 11 September - will capitalise on any lack of discipline within the Wales camp in New Zealand.
"If you play international rugby you are going to target any weakness," Delport said.
"Unfortunately, I think a lot of the off-field antics that's been happening in the last couple of months [have] put a lot of pressure on the Welsh preparations.
"Maybe not going into the competition with the best of results recently added to the discipline issues of the key players puts a lot of pressure on the Welsh preparations.
"Certainly this will be looked at. It might be a bit of cohesion in the team structure and the team spirit of the Welsh side and that's really going to be tested.
"South Africa's quite a physical side. We strive on physical dominance of the opponents and that's really going to be tested out on the field.
"If you don't have that team spirit to stick together when the going gets tough a lot of times teams will break up. That's really going to get tested in that match."
Another player who has also attracted his fair share of media attention over recent years is Gavin Henson.
The 29-year-old centre played his first game for Wales in over two years in the recent defeat against the Barbarians.
Although an admirer of Henson, Delport believes the former Ospreys player needs to work hard to prove his match fitness and his desire to be a part of Wales' 30 man World Cup squad.
"Gavin is a highly talented player," said former Worcester Warriors full-back Delport. "He does add a lot to the squad.
"He might not be match-fit or really up to the pace at this stage but he has done it in the past.
"I think he brings a little bit of an x-factor to the team and maybe there are some areas which he can strengthen in the Welsh team.
"It is a short turnaround though. He didn't have the correct sort of time frame to really prepare and get his match fitness up.
"It's going to be up to the coaching staff and the rest of the team to get him up to that level.
"It's really up to him to get his mind and his outlook on the game correct and get that focus to get back into it.
"I've got no doubts talent wise he can lift his game and can compete with everyone.
"But it's getting that focus and getting that determination to perform."