Wales' Jamie Roberts ready for World Cup preparations
Last updated on .From the section Rugby Union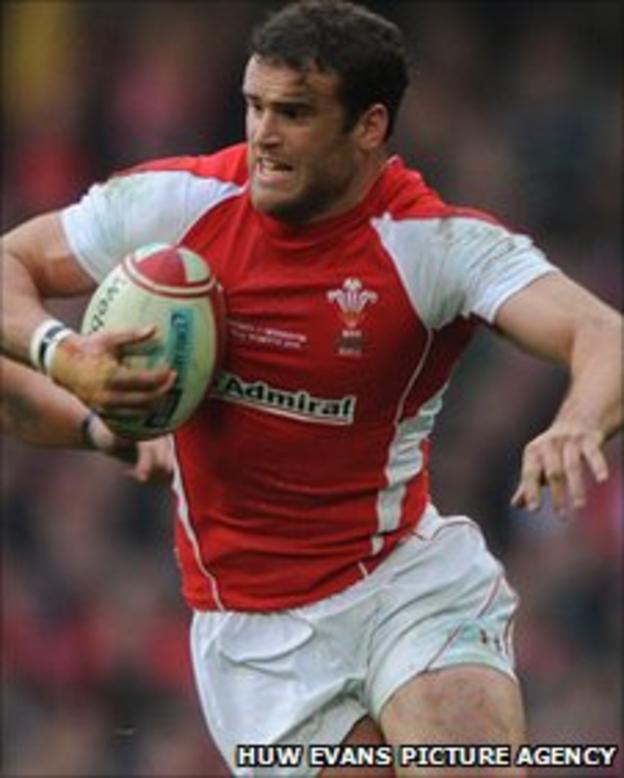 Centre Jamie Roberts has revealed he hopes to make a full recovery in time for Wales' World Cup preparations this summer.
And the 24-year-old is expecting a summer of hard work as Warren Gatland's side prepare for the World Cup in New Zealand.
"We need to go there knowing we've worked really hard," Roberts said.
Roberts underwent surgery in London following the Blues' final fixture of the season against the Scarlets on 6 May.
He is now looking forward to Wales' pre-World Cup preparations, which includes two separate training camps in Poland in July followed by August Tests with England, twice, and Argentina.
"I had a problem with my patellar tendon for the last year or so," he said.
"The Blues not making the Magners semi-final gave me that window to have a minor knee operation.
"[I'm] back in training Monday. The hard work begins and hopefully back up running within two weeks and looking forward to those camps in Poland.
"It's going to be very tough. I think it's important we head to the World Cup knowing we've put the hard work in.
"It's like preparing for an exam. You can go into an exam knowing you've put the hard work in and be completely relaxed about it and concentrate on your performance.
"If you know you haven't put the hard work in then you go in nervous, you go in struggling. It's exactly the same for a game of rugby.
"Certainly the next three months is going to be a huge challenge for everyone involved.
"Obviously 45 doesn't go into 30. There's competition for places and everyone has to up their game."
Having made his full Wales debut in 2008, Roberts has yet to represent his country at the World Cup.
And Roberts considers playing at the World Cup would be a bigger honour than representing the British and Irish Lions, for whom he was man of the series in South Africa in 2009.
"I don't think there's a bigger pinnacle for any player," said Roberts of the World Cup.
"In a rugby mad country like New Zealand, representing Wales is pretty special.
"For all the players involved it's something they desperately want to do. The next three months can be hugely important for everyone."
Roberts was absent as Wales completed the international season with defeat against the Barbarians at the Millennium Stadium.
And despite the 31-28 defeat, Roberts believes the game was a worthwhile exercise as Gatland's side began their preparations for the World Cup.
"The result obviously [was] very disappointing [and] to lose in that fashion at the end," said Roberts.
"But certainly for a lot of the younger players having that exposure at Test level… it's great exposure for them, even though we lost.
"A loss is a loss but it's important now that we regather, train very hard as a 45 over the next few months and those World Cup warm-up games become vitally important.
"Everybody will be trying their best to get selected for them."