Chief executive Gordon McKie wins Scots Rugby backing
Last updated on .From the section Rugby Union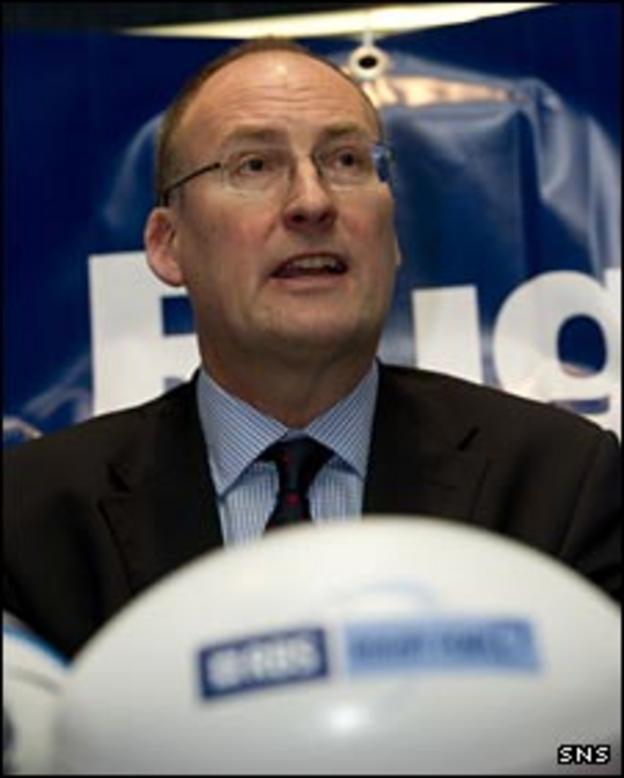 Gordon McKie's hopes of implementing his vision for the future of Scottish rugby remain intact after an emergency meeting of the national governing body.
Called at short notice by chairman Allan Munro, it was widely believed to concern the future of McKie as Scottish Rugby's chief executive.
But Munro said in a statement afterwards that the board had expressed confidence in the management team.
"Scottish rugby remains in excellent health," he insisted.
"And today's meeting simply demonstrates that the governance model of our game in Scotland is absolutely sound and is rightly held in high regard by other governing bodies."
There have been reports of an ongoing power struggle within the corridors of Murrayfield, with a rift forming between executive officials and elected board members.
The main areas of contention are the perceived direction of the organisation and a lack of clarity on Scottish Rugby's future plans.
Glasgow Warriors and Edinburgh both finished in the bottom half of the Magners League last season, while Scotland only avoided the Six Nations wooden spoon courtesy of points difference.
Munro, who appointed McKie to the role of chief executive in August 2005, will stand down at the annual meeting later this month after serving two three-year terms.
His successor will be Sir Moir Lockhead, former chief executive of the FirstGroup transport firm, but Scottish Rugby has insisted there is unity among its present 11 board members.
"Further to unhelpful media speculation, the board also expressed confidence in the executive management team, who have the full support of the board to drive forward the organisation," said Munro.
The meeting had taken place after a planned media conference involving national coach Andy Robinson and captain Alastair Kellock was shelved.
"I am personally delighted with how our great sport is developing at all levels and reiterate our thanks to all our staff, players and volunteers who work tirelessly to grow the game," added Munro.
"I very much look forward with confidence to the Rugby World Cup later this year."