Martyn Williams eager to earn Wales World Cup spot
Last updated on .From the section Rugby Union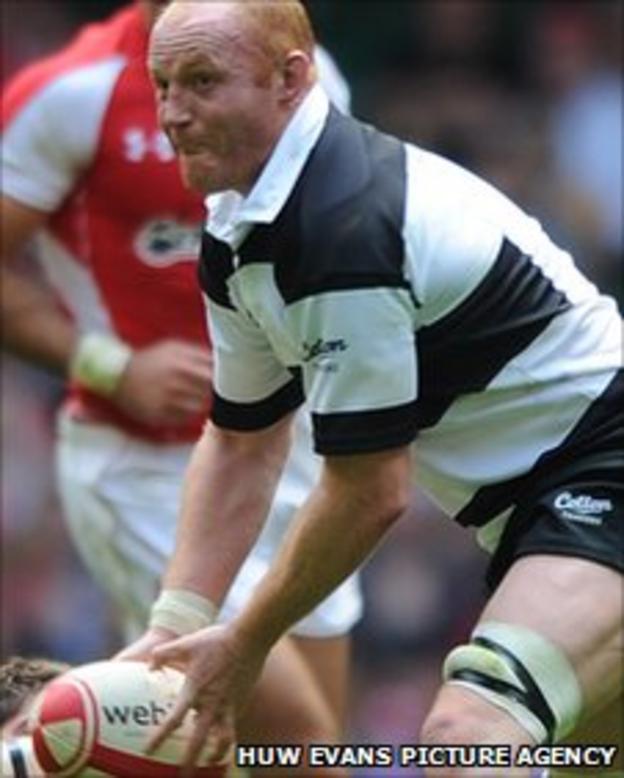 Flanker Martyn Williams acknowledges there will be no room for sentiment when Wales coach Warren Gatland announces his 30-man squad for the World Cup later this year.
Williams, two appearances short of 100 caps, has been included in Wales' 45-man preliminary squad.
Gatland last week warned the 35-year-old Cardiff Blues player he would have to "fight" for his 100th cap.
"I think Warren has been spot on in what he has said," Williams said.
"He doesn't want to dish [caps] out, he wants you to earn them and I totally agree with that."
Williams, who was overlooked by Gatland for the Six Nations, played for the Barbarians in their 31-28 win against Wales.
"To get 100 caps would be the ultimate for me, but if I don't, I don't. I would have taken one cap," said Williams.
"I look at it as the glass being half-full. I've had a great career, and if I manage to get two more, then happy days.
"We get picked on who the coaches think are on form and what suits their side. I suppose the slate is clean for everyone."
Prior to the Barbarians game, Gatland had said Williams would have to fight for the right to reach 100 caps for Wales.
Gatland said picking Williams on sentiment would "devalue the jersey and what Martyn's given to Welsh rugby".
Blues youngster Sam Warburton has risen above Williams in the Wales pecking order, but the Pontypridd-born veteran believes the inclusion of experienced players like himself in the World Cup squad would be beneficial in New Zealand.
"Obviously that's one tick in my box; experience," said Williams, who has signed a one-year contract extension with his region.
"Although we have got a lot of young players we've got a lot of experience as well. If I can add to that then I will be more than happy."
Williams has played in the three previous World Cup tournaments and feels his form this season merits a place in the preliminary 45-man squad.
He was overlooked by Gatland for the Six Nations despite featuring in three of the four Tests last November.
"I obviously can see [Gatland's] reasons," said Williams. "[But] I'm a bit biased and I thought my form during the autumn was pretty good.
"I am not going to lie - it was a blow missing out on the Six Nations squad because I played well in the autumn when I was given the opportunities.
"But it's one of those things. Warren explained he wanted to look at a different option in Josh [Turnbull].
"You've got to take it on the chin and move on. It was more frustrating than disappointing."
Wales' training squad will assemble on 13 June to begin their World Cup preparations in earnest.
Following two training camps in Poland, they will play three World Cup warm-up Tests before Gatland reduces the size of his squad to 30 before the departure to New Zealand on 31 August.
Ahead of such a gruelling summer schedule, Williams admits age is finally catching up with him but feels he still has a big contribution to make.
"Obviously it's a long summer of training ahead and the three pre-World Cup games," said Williams.
"When you are 35 and you have played the amount of rugby I have, you are not going to be as sharp as what you used to be.
"But I've been happy all year. My form I think has been pretty good."