Toby Faletau is Wales' Tongan ice-man
By Danny Lydiate
Wales and Newport Gwent Dragons
Last updated on .From the section Rugby Union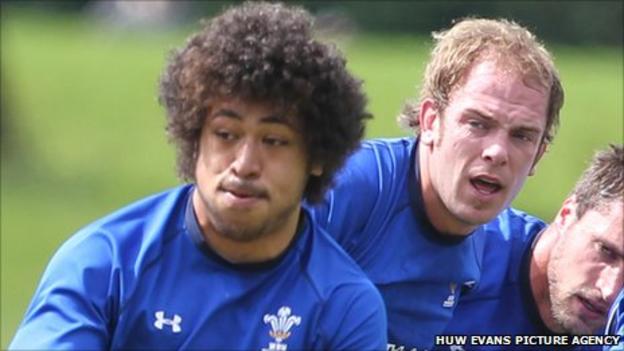 It's great to be back in camp with Wales again and we are all very much looking forward to the game at the weekend, but one person I was particularly thrilled for when Warren announced the team to the players this week was Toby Faletau.
He's had a great season for the Dragons and I've really enjoyed playing alongside my 20-year-old, Tongan-born team-mate. I congratulated him when we found out - he is so laid back normally that I just wanted to see his reaction to the news he was about to win his first cap.
But he is so chilled out he just took it all in his stride and said he was pleased.
I like to think maybe he was bubbling inside, but on the exterior he just exuded coolness and knowing him as I do he will probably feel that way all the way through match-day.
I'm pretty jealous of Toby on that front, he just doesn't seem to get nervous about anything and that's a real attribute for a player during games.
It's a strange one - you can't allow yourself to enjoy the thought too much that you are about to represent your country, you can't allow yourself to think about it, because if you do you will expend so much nervous energy that it will be counter-productive.
I usually just block all thoughts out until match-day and only then, apart from the captain's run tomorrow, do you put your 'game head' on. I don't have a problem with nerves, but I know I have to manage them.
Obviously for Toby that's not a problem! He's a real enigma.
If you ever meet him you'll be left with the over-riding impression of the archetypal, quiet and gentle giant made entirely of ice.
If you play alongside him for region and country, I think you are pretty much going to be left with the same impression, although of course he is not so gentle around the field.
While I'm talking about the back row club, I can't leave out my room-mate Sam [Warburton], our captain for this game.
I'd love to say it has gone to his head and he has completely changed, but he hasn't. He's another one who is taking it all in his stride - I'm surrounded by them.
To be fair we have that many leaders and senior players around the squad that Sam's job is made easy.
But I have noticed he has spoken up more and he certainly commands the respect of the whole group. He's someone you would be more than happy to follow into any battle.
We've all trained hard this week, but to be honest I haven't stopped since being signed off from Dragons duty myself.
I had a week off, but there's been no real end to the season yet so it's been easy to just keep going.
We all know we are in for a tough test against the Barbarians. All this talk of them lacking in preparation will count for nothing when that whistle blows.
It will be a tough physical battle against a host of experienced and talented players and we'll need our game heads on.
But for now, I need to block it all out and chill out a little bit - I'll take a leaf out of Toby's book and sign off.
See you Saturday...