Mark Cueto has knee surgery during ban to boost RWC bid
Last updated on .From the section Rugby Union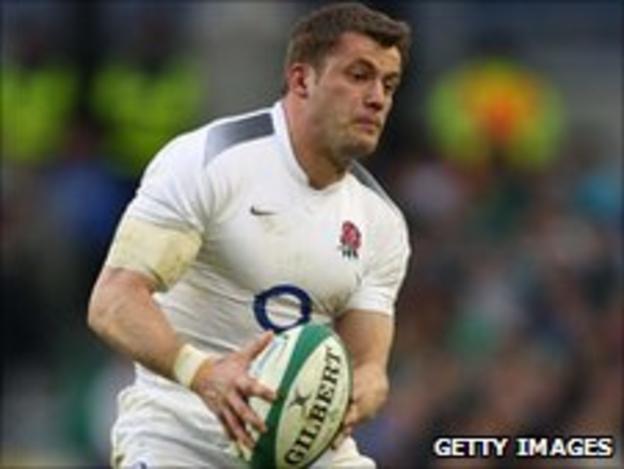 England wing Mark Cueto has undergone knee surgery during his nine-week ban which he believes will ensure he is in prime shape for the Rugby World Cup.
The Sale star was banned after pleading guilty to making contact with the eye area of Northampton's Christian Day.
He admits that were it not for the enforced absence, his cartilage problem may have hampered his RWC preparations.
"The fact the suspension may have helped me for the World Cup has been the positive view I've taken," he said.
"The injury was manageable, I could train and play, but the surgeon was very happy post-op that we'd made the decision to do it.
"He was pretty certain that with the intensity of the World Cup camp and warm-up games, it could have become a bigger problem further down the line.
"Given that I had that window of extra time because of the ban, it was a good decision to have the operation.
"If I hadn't had it, I'd have carried on until the end of the season at least, as long as it didn't get worse.
"And then at the end of the season, I don't know if I'd have been happy to do it so close to the World Cup camp."
England meet for the first time on Monday before the gruelling pre-World Cup camp begins in earnest in July, ahead of three warm-up Tests in August against Wales (two) and Ireland.
And Cueto, who is forbidden from speaking about the offence which led to his suspension until the ban expires on 7 June, finds himself in the rare position of looking forward to training.
"It means I've had five weeks off this summer, which is the longest break I've had in over 10 years," he said.
"I'm actually keen to get back to training. Every year you get such little time off. Before you know it you're back in for pre-season training and you're almost not hungry because you haven't had enough time off.
"But now I'm really keen to get back involved. I had the operation, went on holiday and have been back a week."
Having gone under the knife three weeks ago, Cueto has two more weeks of rehabilitation left and expects to be firing on all cylinders by mid-June.
The 31-year-old, who was defended by Day over the incident which led to his ban, sustained his niggling knee injury in training.
Cueto, who famously had a try disallowed in the 2007 World Cup final against South Africa, believes England are well placed to reach a third successive final when this year's tournament kicks off in New Zealand on 9 September.
"We're in a better position now than we were before the last World Cup," he added. "In itself that suggests that hopefully we can get to the final once again.
"We're confident of where we're at. We've had a great 12 months."