Exeter Chiefs boss Tony Rowe aiming to float club
Last updated on .From the section Rugby Union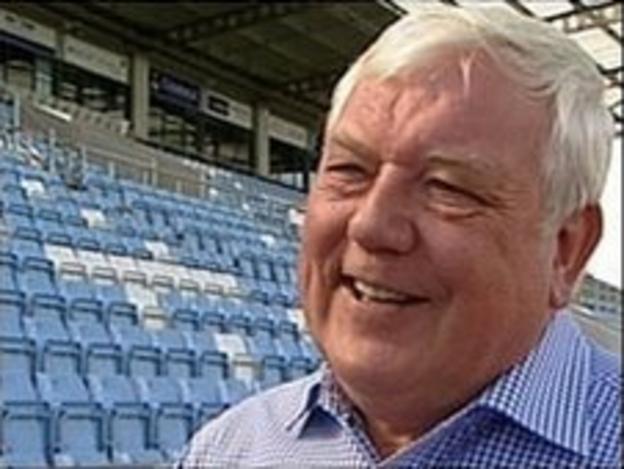 Exeter Chiefs boss Tony Rowe has unveiled plans to float the club in a bid to attract further funding.
Money raised would be used to develop the southern end of Sandy Park, with a permanent seating structure built alongside conferencing facilities.
Rowe is also planning to buy Premiership shares from Bristol, thus enabling the Chiefs to receive greater levels of base funding from the league.
The plans will now need to be approved by the club's membership.
Rowe said: "The plan is that over the next five months, working in conjunction with the club's trustees, we will explain fully to the club membership our plans to float the rugby club as a PLC company.
"During this dialogue we will explain to them fully the effect it will have, before taking a vote at the AGM in October to see how we can progress."
Exeter's first term of top flight rugby proved to be an extremely successful one, as they defied the majority of pre-season predictions to finish well clear of relegation in eighth place.
Rowe said: "After what has been an excellent first season for us in the Premiership, we now find ourselves at a crossroads one more as regards to the future development of Exeter Rugby Club.
"Either we can move onwards and upwards or we can wither on a vine and eventually die."
By buying Premiership shares from Bristol, the Chiefs will be able to increase the amount of base funding they receive from around £1.2m to a figure closer to the £2m enjoyed by the majority of other clubs in the league.
"Looking at how we do move forward, there are effectively two ways of raising the funds," Rowe said.
"Either we can go down the route of finding somebody who is willing to take the club on financially, or we can look to work with our current asserts and raise the income from trading shares in the club.
"This is why we need to take a vote of the membership to take this next step."