Shane Williams to miss Ospreys' semi-final at Munster
Last updated on .From the section Rugby Union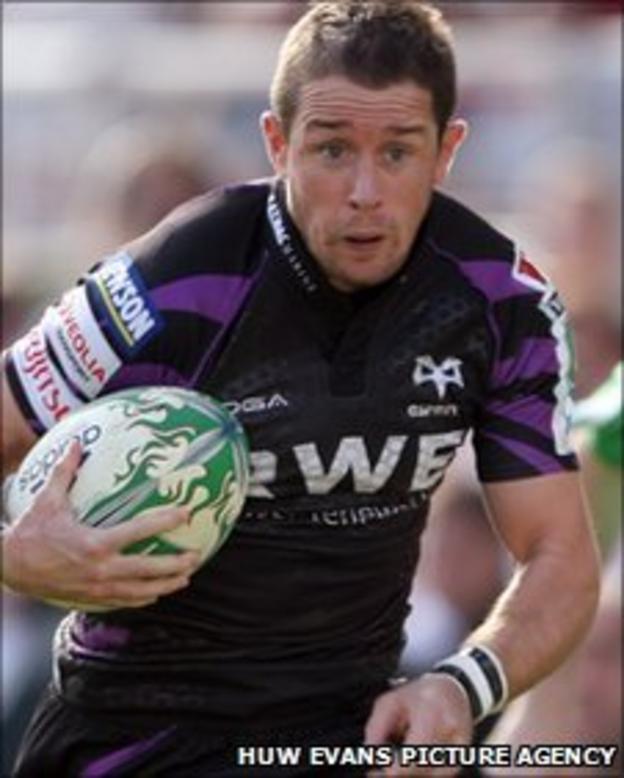 Ospreys director of coaching Scott Johnson has said Shane Williams will not face Munster in the Magners League semi-final play-off.
Despite reports he would return, Williams will not be fit for the clash at Thomond Park on Saturday.
"It's a loss but we've got competent people there that we think can do a job," said Johnson.
"We all know what Shane is and what he brings but the reality is he was going to go down to the wire anyway. We've just got to accept that."
Williams was name in Wales' squad to face the Barbarians on 4 June, and his absence on Saturday will be a blow for the Ospreys as Johnson admits his region have not been at their best as the regular season drew to a close.
The Ospreys only secured their play-off place with James Hooks' late penalty making an unconvincing 12-10 win over Aironi.
"Our form the other night was appalling, there's no doubt about it. It was terrible," Johnson said of the performance in Italy.
"We're hoping we can turn that around. Our form over last five weeks hasn't been great.
"The most encouraging thing is we've taken points in every game. In every game we've taken a point or more [and] it's allowed to get where we are.
"Through a year everyone's form ebbs and flows. We're right in the middle of our dip, that's the way we are [and] we're hoping that we come out of it.
"If we get our form then we can go there [Thomond Park] and do it and we're quite confident we can.
"They know there's a semi-final at stake here, we've shown there's nothing much between these two teams over the last few years. I think it will be a very, very good arm wrestle."
Munster have enjoyed a 100 per cent home record in this season's Magners League and defeated the Ospreys on two occasions at Thomond Park during the campaign.
Tony McGahan's side suffered a 20-12 defeat at the hands of Harlequins in the Amlin Challenge Cup semi-final at Thomond Park in April.
However, Johnson said they would not take anything for granted from that loss by Munster.
"Harlequins were up for it. When you get this close in big competitions it only means you've been slightly off or them slightly on. I think that was probably a bit of that.
"We'll look at the games that we've played, because we've played each other enough and try and find the balance that we think we can beat them."