Gavin Henson's Wales inclusion embarrassing says Owen
Last updated on .From the section Rugby Union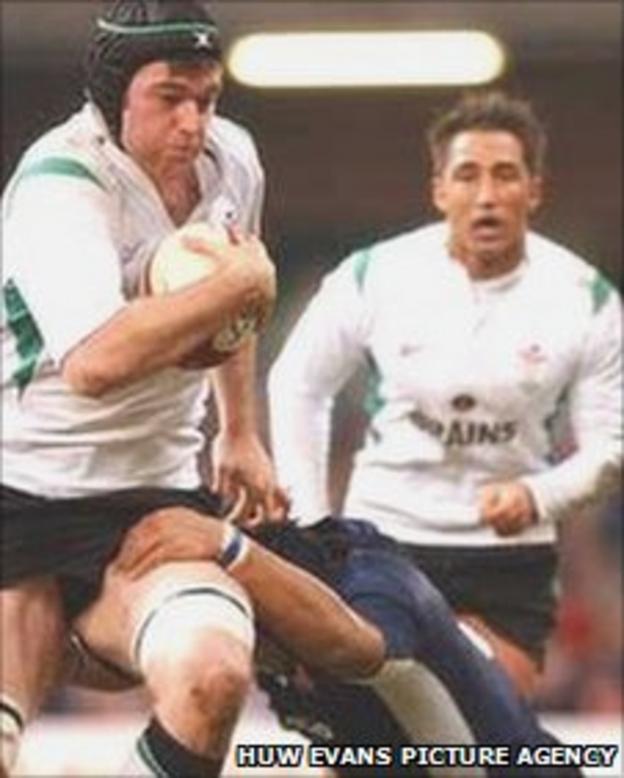 Former captain Michael Owen believes Gavin Henson has been selected for the Wales squad on account of past achievements rather than current form.
And Owen, who captained his country to Grand Slam glory in 2005, believes the inclusion of Henson is "embarrassing."
"He's being picked on what he's done previously," Owen told BBC Radio 5 Live.
The Toulon centre last represented his country against Ireland in a Six Nations Championship match in Cardiff in March 2009.
Henson has spoken of his desire to represent Wales at the 2011 Rugby World Cup, which takes place in New Zealand in September and October.
And while Wales coach Warren Gatland admits the choice is a risk, he and attack coach Rob Howley also think Henson's flair has been missed in the centre position.
But Owen, a former team-mate of Henson's with the national side, believes he does not deserve a place in the squad on current form.
"It's a privilege to play for your national team. I think you've really got to earn that privilege and I just question whether Gavin has earned it in this instance," added Owen.
"Warren Gatland and the coaches at Wales obviously rate Gavin very highly as a player. He's done some fantastic things throughout his career.
"But for me it sends the wrong message to the players in Wales who are striving, day in day out, week in week out, to try and get better and try and perform to get the opportunity to play for their country.
"I don't think it will cause too much resentment, for me it sends out the wrong message.
"For people looking in on Welsh rugby I think it's slightly embarrassing because we're fawning over a player who, at the moment, doesn't merit that sort of treatment."
Following an 18-month self-imposed rugby exile, Henson left the Ospreys to join Saracens in October 2010.
However his spell with Saracens was short-lived and he left after four appearances to join Toulon in France.
Henson had been given a one-week ban after an incident with his team-mates in a nightclub and Toulon then opted not to sack him
Owen, who won 41 caps and toured with the Lions in 2005, believes time is running out for the controversial star.
"It's certainly getting to that stage with Gavin," said Owen. "I think it's been like that over the last period of time with his time out of the game.
"He went to Saracens and it didn't really work out there and he's had another opportunity at Toulon and he's had bad headlines there."
"Everyone says about the depth in the Welsh squad, but there are good young players there."
Wales attack coach Howley has said Henson will add much-needed competition at centre after his recall to the national squad.
But Owen believes other players deserve their place in the squad ahead of Henson on current form.
"One minute we're saying about someone not being ready and they get the opportunity and show that they are good enough," said Owen.
"It's just a case of believing in people and giving people the opportunity.
"To get that opportunity you've got to earn it. And that's the only thing for me about Gavin's selection.
"If he played for Toulon until the end of the season [and] he had five, six or seven really good games and he was showing that he's got the appetite and the desire to play for Wales then they should pick him.
"But for me at the minute he's being rewarded without having earned that shirt and that privilege of playing for his country."