Warren Gatland gives Gavin Henson & Andy Powell verdict
Last updated on .From the section Rugby Union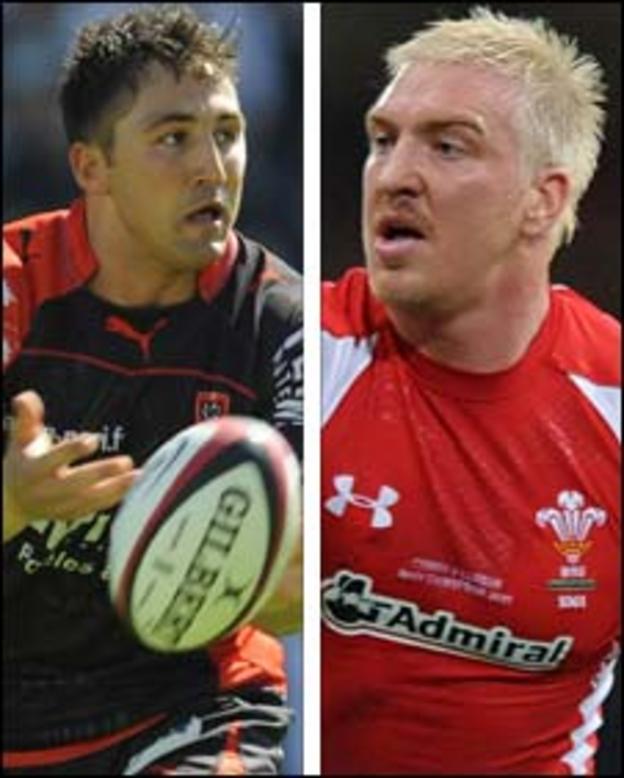 Wales coach Warren Gatland has played down the recent misdemeanours of Gavin Henson and Andy Powell.
Toulon gave Henson a one-week ban after an incident with team-mates in a nightclub, while Andy Powell is to leave Wasps "by mutual consent" after he was involved in a bar brawl.
While not condoning either's behaviour, Gatland is surprised by the furore.
"With a couple of those players a lot of it was really blown out [of proportion]," Gatland told Scrum V.
"There's been an altercation with Gavin with some team-mates in France, which happens, [he was] suspended and he's back playing.
"With Andy at Wasps, if you really look into it, I'm not 100% sure that the club handled that as well as they could have.
"You really need to dig deep and say: 'Were the players 100% in the wrong?' And if you are 100% in the wrong then you need to take responsibility.
"But ultimately we've got to try and get them not to put themselves in those situations in the future."
Gatland says the Wales management have been actively encouraging players to think about their conduct, while trying to improve the public perception of professional rugby players.
"It's something that's been there for a while and I know a lot has been made of a drinking culture," Gatland said.
"But for us it's just about working with the players and educating these young men that are filled with testosterone... learning from situations, trying not to put themselves in situations.
"Over the last two campaigns, as a squad, after internationals the players haven't gone out at all.
"They haven't gone into Cardiff, they haven't gone for a drink and we're trying to reduce those potential situations.
"We've got... 95% of the squad who are fantastic and never get themselves into situations and there are no issues at all.
"We've got one or two individuals that we're working with closely. I know a couple of players in the squad have identified that there's a couple of problems they may have, or a couple of issues and trying to get some advice and some help and I think that's a responsible approach.
"We actually do have a code of conduct that the players adhere to in camp and sign up to that and agree with that, so it's not something that we've taken lightly.
"We've got to make sure that once you've put that red jersey on, once you've represented Wales, even though you're not in the squad and you're out with some mates, or with the club side, you're still representing Wales."
Still on the subject of discipline, Gatland looked back ruefully at the incident during the Six Nations that saw defence coach Shaun Edwards suspended after a confrontation with performance analyst Fergus Connolly.
"In terms of discipline in the squad, as management we've got to set the highest standards," Gatland said.
"There was a bit of an altercation and we made that decision... that's all behind us now.
"Whether we handled it right or not that's debatable, but we felt that we needed to be decisive in that situation, we needed to set a stall in terms of going forward."
Asked if there was an outstanding issue between the two members of his backroom staff, Gatland replied: "I don't think so.
"The fact that they've had a bit of an altercation in public was the concern to me - if they had gone round the back of the building and sorted it out by themselves there would have been no issue as far as I'm concerned!
"All individuals have disagreements and arguments and... sometimes those need to be sorted out behind closed doors."
Centre Henson, who can also play full-back or fly-half, was this week reinstated in the Toulon squad for Saturday's French Top 14 clash with Montpellier and could yet have another chance to persuade Gatland he deserves a Wales recall.
Powell now appears to have played his last game for Wasps and his season is effectively at an end.
Welsh Rugby Union representatives are expected to meet the pair to discuss the latest in a catalogue of misdemeanours, which include Powell driving a golf buggy down the hard shoulder of a motorway while unfit through drink in 2010 and Henson being cautioned by police investigating an allegation of assault in 2009.
But Gatland gave no indication that either player's hopes of being included for Wales' World Cup warm-ups had suffered unduly because of their recent incidents.
However, the New Zealander did praise uncapped 20-year-old Dragons star Toby Faletau, who is likely to be in direct competition with Powell for the Wales number eight jersey, along with former captain Ryan Jones.
"I think they [Wasps] only had another one game left anyway so I think we're looking at the squad at the moment," Gatland said.
"We've got probably four or five players that aren't going to be available for the Barbarians that have got injuries.
"We need to look at some youngsters that are playing really well at the moment.
"Probably the stand-out player that I've seen in the last few weeks is Toby Faletau.
"The two games that I watched at Rodney Parade, against the Ospreys and the Blues, I thought he really came into his own."
Wales begin their build-up towards September's World Cup in New Zealand with a match against the Barbarians on 4 June, with Gatland hinting they will be adventurous.
"We'll name the squad next week and I think we're only going to name 24 players because it's just the one-off game, we're only coming in for the week to prepare for that," Gatland added.
"I've mentioned a youngster that's got a good chance of being in the squad and hopefully that gives an indication of the way that we want to play.
"We've got to be smart in the way that we play but there's potentially going to be a lot of running and hopefully a lot of rugby played.
"It's a good opportunity with this Barbarians game, with the three warm-up games for the World Cup that you can look at some combinations but it gives you a chance to take some risks as well."
Wales will then prepare for three warm-up games in August, back-to-back Tests with England followed by a clash with Argentina in Cardiff before they depart for the World Cup.