Injury forces Connacht's Conor O'Loughlin to retire
Last updated on .From the section Rugby Union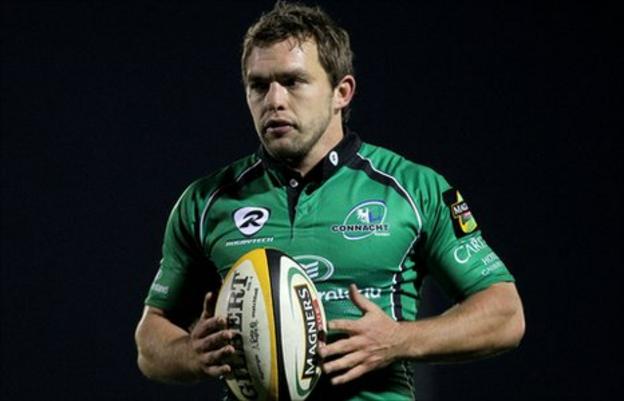 Connacht scrum-half Conor O'Loughlin has been forced to retire from rugby because of a hip injury.
The former Ireland A and Under-21 scrum-half has been troubled by the injury for several months.
O'Loughlin, 28, made his Connacht debut in August 2003 and went on to play 97 games for the Irish province.
"I've exhausted every medical avenue at this stage and I've been advised that I can no longer continue my rugby career," said O'Loughlin.
"It's taken me a while to get my head around it but everyone's been really helpful and supportive, especially my family and friends, and I'm very grateful to them for that.
"I've played in some great matches over the years, playing Harlequins in the Sportsground in the Parker Pen Challenge Cup in '04 was special.
"That was my first time playing in front of such a huge home crowd and the atmosphere was amazing. Representing my country for Ireland A was another proud occasion for me.
"Growing up in Connacht, playing underage, you have a lot of loyalty to the province and over the years you grow more and more attached to it.
"Working with Brads (Michael Bradley) was great.
"He really helped develop my game and was probably the biggest influence in my rugby career.
"I've really enjoyed the last couple of years here; the camaraderie in the squad is fantastic and Eric (Elwood) and his management team are doing some great work with the lads and they're definitely going places."
O'Loughlin sustained an injury to his hip in December 2006 against Montpellier and consequently his hip has deteriorated to a point where he can no longer play rugby
"Rugby's been my life for the last eight years so I'm going to have to look at my options now.
"I've completed a masters of finance, my CFA (Chartered Financial Analyst) Level 1 exam and I'm sitting the Level 2 in June so there are options there for me in a role outside of rugby."
Connacht coach Elwood paid tribute to O'Loughlin's service for the province.
"He's been a great servant to Connacht Rugby over the years and will be a massive loss to the club," added Elwood.
"The manner in which Conor has dealt with his injury is remarkable and it is a huge shame that Connacht are losing a home-grown player of his talents."