Guernsey RFC had a successful season - Reynolds
Last updated on .From the section Rugby Union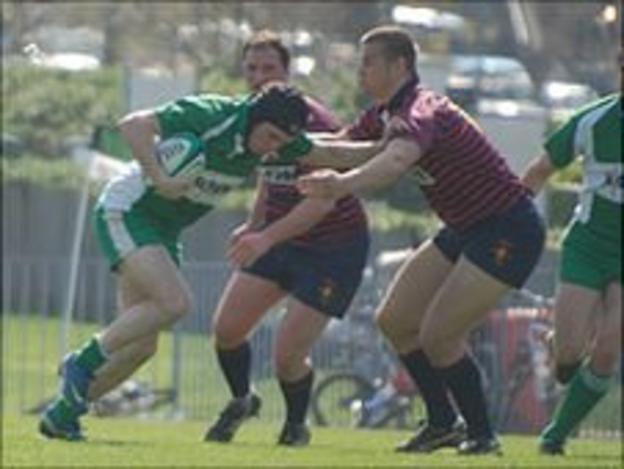 After securing the London Two South West title last weekend, and with its promotion to London One South, the 2010/11 season was arguably Guernsey's best ever campaign.
The Sarnians banished the memory of narrowly missing out on stepping up last term when they finished second in the league and lost to Hove by three points in the play-off.
"I think we achieved everything we aimed for, besides maybe the undefeated home record that kind of slipped away a bit," coach Jordan Reynolds said.
"We put the effort in we had to achieve the league title - whether it's one point ahead or 20 we're still top spot.
"It's a great achievement, especially missing last year on the Hove match.
"This year we proved a point that it wasn't a one hit wonder, we got the league title and I think we did it quite comfortably."
Guernsey won the league by one point over Trojans, with both sides having won 17 matches and lost five but with the Sarnians earning a vital extra bonus point.
In the league it is four points for a win, two points for a draw with one bonus point available to winning sides who score more than four tries and losing sides who lose a match by seven points or fewer.
"We were on the top of the ladder for most of the year, there was one stage where we were about eight points clear, now it's about focussing on what we need to achieve next year," Reynolds continued.
"This year and last year I've been really hammering through that we need the league title.
"I thought getting it would kind of give me some closure and be a bit relaxing but it's been more of a stressful time than ever now that we're going to London One South.
"I don't think there's going to much difference in the league - maybe your top four teams will be a different standard."
Reynolds sees a comparison between his side and London Irish Amateurs, who won the league and promotion last year, who are sitting near the top of London One South.
"I don't want to go into next year's league and talk about maybe just trying to stay in the league as that wouldn't be my aim all, I think realistically with the team we had this year we could be looking at the top half," he added.
"If we can generate a couple more players coming in we could look at top four.
"By all accounts we can get there but it's just a matter of putting the preparations in now."