Scarlets raise concerns following referee's performance
Last updated on .From the section Rugby Union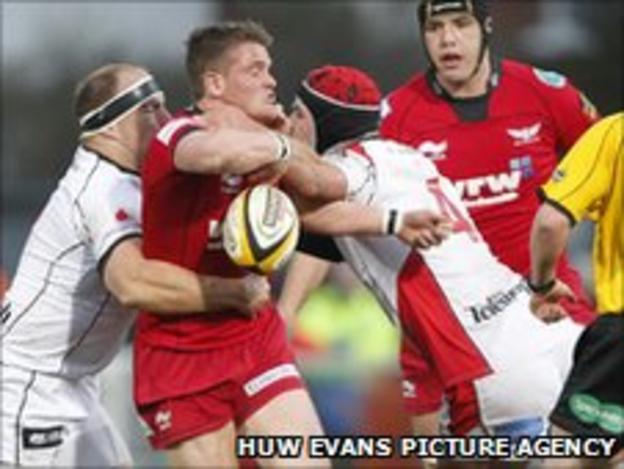 The Scarlets are submitting a formal report to the Magners League following the performance of referee Graham Knox during their defeat at Ulster.
Coach Nigel Davies was left fuming with the display of the Scottish referee after the Scarlets lost 20-18.
They were unhappy with a heavy penalty count in the home side's favour as well as the fact that Morgan Stoddart's try was disallowed.
"We have to address it quickly and very strongly," said Davies.
In response a spokesman for the Scottish Rugby Union said they had not received any letter or tape from either the Scarlets or the WRU.
And Davies said they would be submitting a report along with video evidence in an attempt to highlight refereeing standards.
"We've just got to drive it forward and grab this issue for the good of the game," said Davies.
"It's a very serious situation, especially with the level of response I've had and how disgusted people have been with it.
"Nobody wants to watch a contest where they feel it's not fair. Our credibility as a league is brought into question."
Referee Knox, officiating in only his 12th league game, ruled out Stoddart's try on advice from television match official (TMO) Marshall Kilgore, even though it was not within the TMO jurisdiction.
That forms part of a dossier of complaints the region have submitted to the Magners League and the Welsh Rugby Union.
"We've put together a series of over 20 clips where we feel that the game should have been refereed differently according to the laws," said Davies.
"We've aligned that to a letter obviously highlighting our concerns with the officiating in this particular game.
"There's not much we can do about that, but we can certainly affect the future and I would not like any team to have to go [through what we went] through last Friday [and] what I feel the unfairness of it.
"There's a bigger picture here for the league and for rugby in general.
"We have a serious problem with the credibility of our league when we see performances like that."
Although angered and frustrated with the referee's performance at Ravenhill, Davies felt it was a game the Scarlets should have won.
"Regardless of the problems with the officials, I still think it was within us to win that game," added Davies
"If we'd have taken our opportunities better and not let in a couple of soft tries, regardless of anything else, then we'd have won the game.
"But there is this added frustration of some of those decisions. And the fact we didn't get even a penalty in the second half whilst we had almost 70% of the possession is almost unheard [of]."