Injury forces Cardiff Blues centre Tom Shanklin to quit
Last updated on .From the section Rugby Union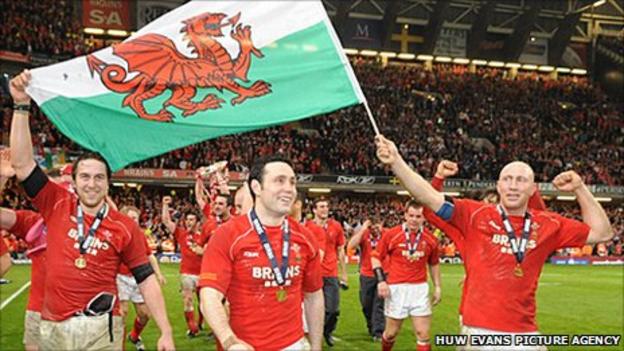 Cardiff Blues centre Tom Shanklin's career is over after he failed to recover from a knee injury.
The 2005 and 2008 Wales Grand Slam winner underwent surgery in January, having suffered previous knee problems.
But the 2005 British and Irish Lion in New Zealand has been forced to admit defeat in his battle for fitness.
Shanklin, 31, had hoped to return, but concedes: "I had an operation in January to see if we could fix the problem and it hasn't worked."
Shanklin played throughout the 2010 autumn series for Wales, but his season came to a sudden halt in early January after pulling up in a Magners League match against Aironi.
Scans revealed the severity of the injury, forcing Shanklin, whose career has been blighted by knee problems, to go under the surgeon's knife once again.
Shanklin, who missed the 2009 Lions tour to world champions South Africa because of a shoulder injury, scored 20 tries in his 70 Wales caps since his international debut in Japan in 2001.
He joined the Blues from English side Saracens in 2003 and claimed 28 touchdowns in 114 appearances for the Welsh region.
Shanklin added: "My knee isn't too bad, it's ok to walk and cycle and to do everyday things, but with regards to playing rugby: accelerating, changing direction, weight lifting, it's not too good.
"I had an operation in January to see if we could fix the problem and it hasn't worked.
"It's bone on bone on my knee which has restricted me from doing a lot of things and I'm going to have to retire from the game.
"The advice from Rhys Williams the surgeon was to retire. Rhys knows the inside of my knee pretty well having done three or four operations on it.
"It was down to me to decide if I can continue or not, but I can't go on, as it's too sore and it's a pretty black and white situation.
"I can't fully function with it and I need to start taking account of my body and start listening to it.
"I'd like to thank not only Rhys for all his work, but all the Blues medical team who have been excellent in all they have done to keep me on the field for this long.
"I've had a history with a bad knee, but since 2005 it hasn't really troubled me. I've managed to carry on and continue until I injured it again January. I was aware at the time that it could end my career.
"A lot of the decision on whether I would retire was down to how my knee would recover and how I felt.
"I've now had time to take it on board, so it isn't a shock, and I've come to terms that I'll never play again.
"This summer I will be definitely spending more time at home with the family and enjoying my weekends.
"I'll still be watching the Blues and Wales but I'll be able to relax and maybe have a beer or two and watch some games with my mates.
"After that I'll be looking to get a job in the real world, which is a little bit daunting, but happens to all rugby players after they finish."