Wales defence coach Edwards denies headbutting Connolly
Last updated on .From the section Rugby Union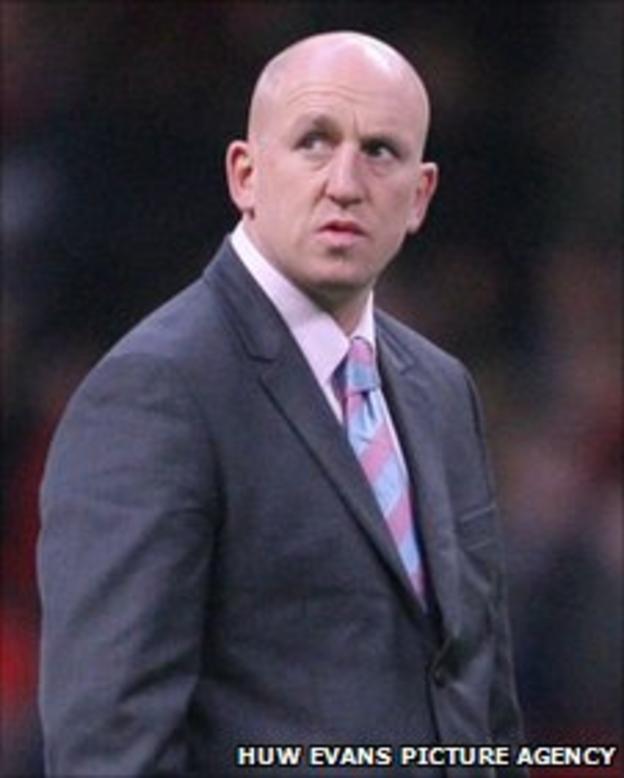 Wales defence coach Shaun Edwards has denied headbutting his colleague Fergus Connolly in the incident that led to both missing Wales' defeat in France.
Both men were fined £500 and banned from Wales' final Six Nations match in Paris by the Welsh Rugby Union (WRU).
In a newspaper column, Edwards admitted he and the sports scientist had a scuffle, but he told the Sunday Times: "I definitely did not headbutt him."
Edwards is to see out his contract that ends at the 2011 World Cup.
In The Sunday Times article, Wasps head coach Edwards admitted the incident was sparked over a song sung on the Wales team bus following their 19-13 win over Ireland on 12 March.
Edwards added: "Fergus got the wrong end of the stick with a song which was a bit of fun with the lads.
"He approached me afterwards clearly annoyed and there was an altercation; our heads may have touched because we were standing so close to each other, but I definitely did not headbutt him.
"Fergus has always been one of my best mates in the squad and we are now friends again.
"No one has ever seen me drunk or out of order in a rugby situation. My record as a player and a coach speaks for itself and I always tried to conduct myself properly."
In his Guardian column on Friday, 25 March Edwards revealed he met WRU group chief executive Roger Lewis in London.
"Yesterday's [Thursday's] meeting with Roger Lewis confirmed I will see out my Wales contract, starting with Barbarians at the start of June and going on to New Zealand in the autumn.
"I am still Wales defence coach.
"And the matter of the scuffle following the Ireland game can, I hope, be laid to rest.
"There are weeks you'd rather forget, and I hope that is precisely what I am allowed to do with this one."
When the incident was raised with Wales coach Warren Gatland at the France game, which Gatland's lost 28-9, he would only say that it was an internal matter.
Edwards started work with Wales before the 2008 Six Nations campaign, when they won the title and Grand Slam, conceding only two tries during the entire tournament.