Robert Elstone: Super League's executive chairman set to stand down after tendering resignation
Last updated on .From the section Rugby League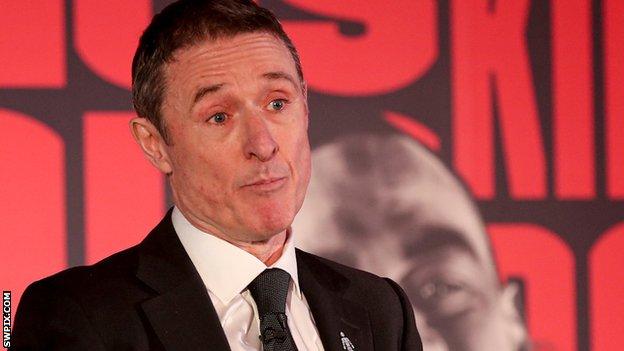 Robert Elstone is set to stand down as executive chairman of Super League after tendering his resignation.
His decision to step down comes just 44 days before the start of the new 2021 season, and two and a half years after his appointment in June 2018.
Elstone, 57, came back to rugby league after 13 years as chief executive at Premier League side Everton.
Super League's board have said they will discuss the decision before making comment.
Having worked at the game's governing body the Rugby Football League, aligned to his work as a chartered accountant at Deloitte and his experience running a top-flight elite football club, Elstone was handed the reins at Super League to drive a new era.
As part of his remit, Elstone was tasked with pushing Super League away from the RFL to a more autonomous position, attracting new investment and negotiating television rights - with the current Sky deal due to expire in 2021.
Clubs rejected a private equity offer which was worth a reported £60m from Novalpina Capital, while the new TV deal is also expected to come with a reduction in income.
"I'm not particularly surprised," Wigan owner Ian Lenagan told BBC Sportsday. "Robert has put a lot of effort, commitment and tireless endeavour into the direction for Super League and has done a lot of it right.
"But as ever, with any game there are always disagreements. He has chosen his time well. We are coming towards a new season, a new television deal, lots of opportunities for rugby league and I think Robert feels that after two-and-a-half years it's the time for him to move on and for Super League to have someone else lead the way through the next phase of our growth.
"Super League and rugby league generally is in a good place thanks to what has happened over the last two and a half years."
Analysis - 'Began with promise, may be viewed as false dawn'
Dave Woods, BBC Rugby League correspondent
If the Super League clubs accept Robert Elstone's resignation, it will end a chapter that began with much promise, but will be viewed as something of a false dawn.
When Super League effectively broke away from the RFL in the summer of 2018, and appointed Elstone as executive chairman, the absolute bottom line was to increase the value of the competition to broadcasters.
But when the TV contract deal renews at the end of this year, it will almost certainly be for several millions less than the current deal. And that will impact the whole game, not just the 12 Super League clubs.
Elstone also championed a private equity deal that would have brought in significant short-term funding, but also involved handing greater control of the game to outside interests.
When the clubs voted against that proposal, his position was significantly weakened.
His was also a leading and persuasive voice in rejecting the re-admittance of Toronto into Super League this year, after their financial collapse in 2020. A decision that also split the wider game.
But he should not be made a scapegoat. It's hard to imagine that any individual could have led the game to the targets it set itself in June 2018, given the landscape that Covid 19 has produced.
And any criticism of Elstone should be more fairly levelled at the costly, ineffective structure that Super League created for itself when it broke from the RFL.
All the Super League clubs - with the exception of Leeds - declared they could do a much better job themselves in selling the sport's 'blue-riband' competition. They insisted that the RFL was failing.
There was heavy investment in Elstone and his team - several of them ex-RFL employees - and they moved into expensive new premises in Manchester's Northern Quarter.
Money was pumped into producing an in-house TV show, given for free to Sky, in a bid to attract a new and younger audience. A rebranding exercise was investigated.
But the so-called "cut through" never really happened, and then came Covid-19.
The sport as a whole is now on the peak of one of its biggest ever challenges. For some clubs, at all levels, it's a fight for survival.
So Elstone's departure may actually be a catalyst for healing in the game.
The couple of confidence votes he's had to survive in the last 12 months don't reflect on his effectiveness as an individual, more a realisation amongst several clubs that breakaway was not the panacea they had hoped for.
The growing consensus is that the sport is strongest when it speaks to the commercial world from a united stand-point. And it can't afford to double up on costs of executives and headquarters.
It's significant that the consistent dissenting voice within the clubs, when Super League voted otherwise unanimously to split from the RFL, was that of Leeds chief executive Gary Hetherington.
Hetherington was part of the original Super League split back in 1996 and also played a role in bringing the game back together again in 2001 because that experiment failed.
He predicted that history would repeat itself, and it seems to be playing out that way.
The RFL is far from being perfect. And the Super League clubs had some legitimate gripes ahead of their move to greater autonomy in 2018. So if the two bodies were to re-merge you can expect a heavily negotiated settlement and a probable restructuring of the governing body.
But the game can't afford to be divided at the best of times. These are the worst of times and it needs a united front more than ever.