Super League Magic Weekend 'may well be casualty' as coronavirus halts season
Last updated on .From the section Rugby League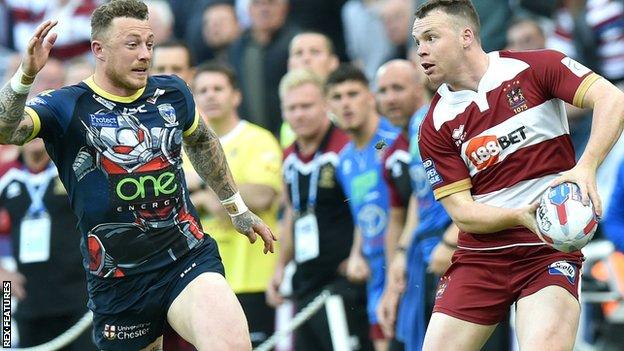 This year's Magic Weekend could be rescheduled or cancelled as a result of the coronavirus pandemic, says Super League chief executive Robert Elstone.
Rugby league has been suspended indefinitely because of the outbreak.
The Magic Weekend, a full round of top-flight fixtures played at the same venue over two days, was set to take place in Newcastle on 23-24 May.
"You might look at the probability of it happening as diminishing all the time," said Elstone.
"Magic hasn't been totally ruled out to date. We have a daily conference call among Super League executives and we spoke about it on Wednesday morning.
"We're preparing for the fact that Magic may well be a casualty of this. The big quandary is how long is this going to last and it would be unwise not to think about Magic at a later date in Newcastle or in a different format."
The Super League season is scheduled to finish in October with the Grand Final at Old Trafford, with an international series between England and Australia to follow.
Elstone continued: "Right now it's impossible to know how long this suspension period will last but we're looking at a variety of scenarios that means, when it does it get lifted, we're in a good place to start quickly and fulfil as many of our seasonal obligations as we can.
"We have a Super League fixture list that involves Magic Weekend, loop fixtures and play-offs and all of these generate revenue for the clubs, the centre or both.
"You've got Challenge Cup and Test football to consider too and the good news is everyone is working together to find a solution that works for everyone, but the longer it goes on the harder it will be to fulfil everything."
The Magic Weekend concept has been part of the Super League calendar annually since 2007.
St James' Park in Newcastle hosted it for four successive years between 2015 and 2018, with last year's event being staged at Anfield, home of Liverpool FC.
Super League considering unpaid leave
Meanwhile, Super League and its member clubs are considering the introduction of unpaid leave for players and staff while the competition is suspended.
Elstone is confident all 12 top-flight clubs will survive financially, adding: "Clearly furloughing was a very welcome initiative the clubs put on the table.
"I think every club and Super League is looking very closely at how that allows us to get through this situation."
Access to government funding to help clubs is complicated by the presence of a French and a Canadian side in the competition, in Catalans Dragons and Toronto Wolfpack respectively.
Elstone said: "Our big priority right now is economic survival for us and for our clubs, and everything we're doing is about that.
"We are looking very closely at the support the government is offering all businesses to make sure we're as well placed as we can be to access that as quickly as we can."
Rugby Football League chief executive Ralph Rimmer told BBC Radio 5 Live's Rugby League podcast on Monday that the sport is resilient enough to survive the pandemic, but will need backing from the government and key partners.
Super League has consulted professional advisers about the best practice for furloughing, with more announcements expected from the league in the future.
"We've spent an awful lot of time looking at furloughing as an option for a large number of our employees," Elstone added.
"We have to do that professionally and sympathetically and that principle applies across all clubs, who I know are speaking to their employees about looking at furloughing.
"They're doing that sensibly and collaboratively.
"It is an opportunity that will allow clubs and Super League to protect themselves economically over a difficult period ahead."