Super League: Golden-point extra time introduced for regular season from 2019
Last updated on .From the section Rugby League
Super League will introduce golden-point extra time to regular-season competition from 2019.
A statement issued on behalf of the 12 Super League clubs confirmed the rule change is among a series of "exciting innovations" for next season.
Consideration of exactly what other rule changes will be introduced remains a work in progress, with coaches and players still being consulted.
Golden point is already used in knockout games in English competitions.
In 2017, a Luke Gale drop-goal in golden-point extra time against St Helens sent Castleford Tigers to their first Super League Grand Final.
The change, which brings the northern hemisphere's top competition in line with Australia's NRL, means fixtures in the regular season which are level after 80 minutes will be followed by two five-minute periods of golden-point extra time.
If there is no score after 10 minutes, then the game will be deemed a draw and both teams will take one point.
The Super League clubs say they have asked the Rugby Football League, the game's governing body in the UK, to "clear the way" for change via their Laws Committee.
The Press Association reports that among other proposed changes are a reduction in the number of interchanges allowed per team from 10 to eight, and the introduction of a shot clock at scrums, drop-outs and conversions to reduce time-wasting.
"The Super League clubs have been determined to evaluate and improve all aspects of our competition, and this includes the way the game looks on the field," the statement said.
"We look forward to providing full details to Super League fans very soon."
Analysis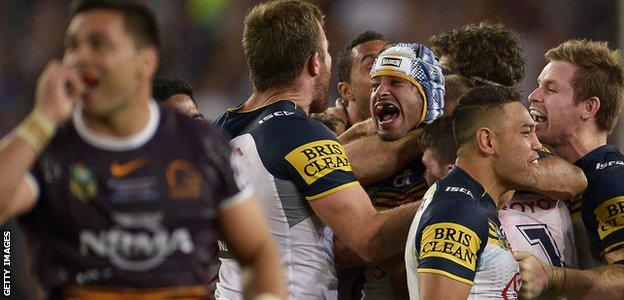 Matt Newsum, BBC Sport rugby league reporter
The plan to bring in golden point could be a divisive one.
There are benefits to the concept, such as extra excitement generated. Who could forget Castleford's dramatic golden-point win over St Helens in the 2017 Super League semi-finals? Or Johnathan Thurston's drop-goal for North Queensland Cowboys in the 2015 NRL Grand Final, after a late try brought them parity?
When Wigan scored a last-minute try at the end of their Magic Weekend match against Warrington in 2017, it was a dramatic end to a remarkable game. A point felt fair. Do we need a winner every time?
Does it encourage teams to attack? Or do we just see teams working their way into position for a procession of desperate drop-goal attempts?
For the media, there could be some wonderfully tense finishes. Great. But what about the knock-on effect of the added time at the end of games. Broadcasters have strict schedules, while missed deadlines on late-finishing games mean newspaper reports won't make it to press for the hard copies, at a time when the sport is desperate for coverage.
Even if we are to see golden point brought in, the stats from the NRL suggest it won't be utilised too often. There were only four in 2018's competition.
What this does show is that in the spirit of the old Northern Union, the Super League clubs, under new chief executive Robert Elstone, will leave no stone unturned in their bid to increase the marketability and appeal of their division.