Tommy Makinson's rise from the depths of despair to top of the rugby league world

By Dave Woods
BBC rugby league correspondent
Last updated on .From the section Rugby League23
Tommy Makinson has gone from the depths of despair to the top of the rugby league world.
His Golden Boot award - recognising him as the World International Player of the Year - is the culmination of a stellar 2018 that has seen him burst onto the international stage with three eye-catching performances for England.
He scored on his debut against New Zealand in Denver in June, put on a dynamic defensive display in the first Test against the Kiwis two weeks ago and followed that up with a hat-trick of tries against the same opposition last week.
His performances, according to England coach Wayne Bennett, have put him "in a league of his own".
But his current success comes only two years after his career could have been ended by a devastating double injury.
A broken ankle in the middle of the 2015 season, followed by a ruptured anterior cruciate ligament on his comeback at the start of 2016, effectively put him out of the game for nearly two years.
The fact he bounced back from that devastation to become the most talked about player in the world game does not surprise his St Helens team-mate and friend Jon Wilkin.
"Sometimes that can be a seminal moment in people's careers," says Wilkin.
"When they have genuine adversity, you often find out who's the hungriest. Those situations can go either way. They can define a player by their career not going the way they want it to or, in Tommy's case, can be a catalyst to start an international career."
Makinson, 27, has become an England favourite for both his acrobatic brilliance in attack and his physical approach to defence.
It wasn't just his three tries in the second Test that drew a roar of approval from the Anfield crowd.
His road-block tackle on the powerful Kevin Proctor, to deny the Kiwis a certain try, also provoked a fist-pumping response from team-mates.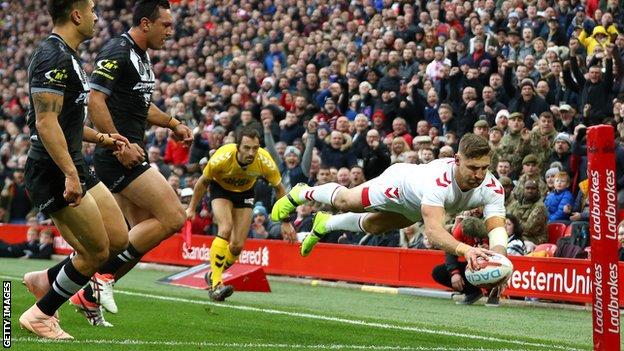 But it is his personality that makes him a winner, according to Wilkin.
"When someone's performing so well at the top level of a sport, like Tommy is, there's a focus on his sporting prowess, on what he's doing on the field," says Wilkin.
"Without Tommy Makinson, England don't win that last Test.
"He won the game for them in the first 10 or 15 minutes with his defensive efforts.
"He'll win the hearts and minds of the fans because of the tries he scores, but the hearts and minds of the people he plays with are won by the efforts not many people see.
"The tale of Tommy Makinson and his development as a player can be linked directly to his personality. He's a very humble, hard working guy.
"It's overused in sport to say he's a great character in the dressing room, but Tommy brings a lightness, a fun and an enjoyment, as well as a competitive element to everyday training at St Helens.
"As an older player, having players like Tommy with his energy and his intensity round the place makes your job so much easier.
"Tommy's rewards on the field are borne out of his character."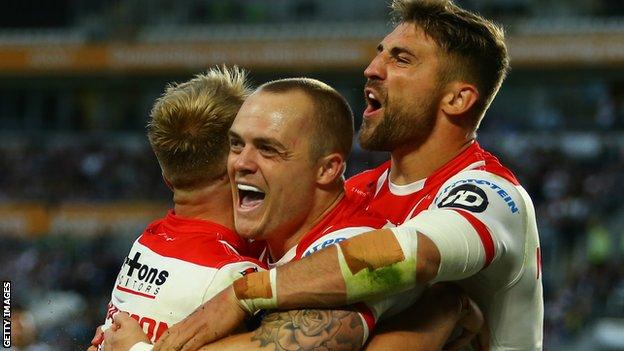 And Wilkin believes the Golden Boot award will have little effect on Makinson's approach to his sport and life in general.
"Winning a personal accolade like this, I guarantee Tommy is a humble guy, so he'll thank everyone around him for what they've done for him.
"But, ultimately, on those dark mornings in St Helens, when it's raining and he's re-habbing a real bad lower limb injury, there is only one person to attribute his success to and that's himself.
"He'll never accept that, but that is where it's come from. His character and his actions, from his own standards for himself which he's been setting for years."