Shaun Wane: Departing Wigan coach 'lived the dream' at hometown club over 30 years
Last updated on .From the section Rugby League
Shaun Wane says he "lived the dream" with Wigan after ending his 30 years with the club by guiding them to Grand Final glory in his farewell game.
The 54-year-old had been a player, scout, academy, assistant and head coach, and now moves into rugby union.
"I love the players so much," a tearful Wane told BBC Radio 5 live. "I'm ecstatic. I hope I've played my bit."
The Scotland-bound coach added: "I've enjoyed myself and I've lived the dream. I'm going onto something else but my memories here are the best."
Saturday's triumph at Old Trafford was Wane's third title in as many finals against the Wire.
Wigan have now won 22 championships, five in the summer era, and could have another crack at winning the World Club Challenge against National Rugby League premiers Sydney Roosters next season.
It took some relentless graft to overcome a Warrington side who had chances but continuously ran aground on some fearsome defence.
"We weren't great, but I wasn't bothered about the performance - I just wanted the win," Wane said after the hooter.
"Warrington were good, but our desperation on our own line was outstanding. I'm made up for everybody."
'I'd still be digging holes on building sites'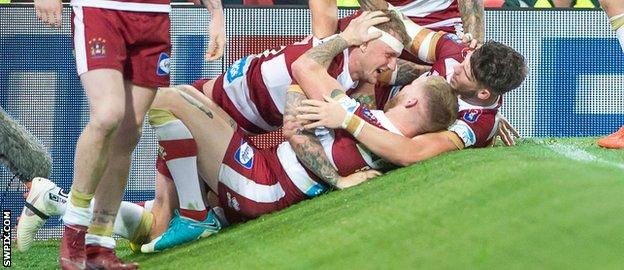 It was fitting that Dom Manfredi was the player whose two tries helped secure Wane the parting title he craved.
It was Wane who gave the winger his debut, the coach who nurtured him to the Dream Team and the cusp of international honours and, most crucially, stuck by him during an horrendous two-year injury lay-off.
Manfredi, 25, had repeat knee ligament injuries which hampered his progress, but he returned with two tries to beat Warrington in the Super 8s and repeated the feat at Old Trafford.
"Shaun's a massive character," Manfredi said. "I owe a lot to Waney. I don't think I'd be anywhere near here if it weren't for him.
"I'd still be digging holes on building sites."
The re-emergence of such a long-term absentee has been a huge boost to Wigan, particularly when wingers Joe Burgess and Liam Marshall have seen their seasons ended prematurely by injuries.
Two seasons ago the former Leigh Miners junior went through the same disappointment - missing the 2016 triumph - and might not have returned at all had it not been for a strong support network.
"There were some dark times," Manfredi said. "I sat down and said 'this is my last chance'.
"I told myself I'd give it everything and if it's not good enough, then it's not good enough. But the physio staff and players have got me there in the end.
"My mum has been massive. She was there when I couldn't get up, taking the dog for a walk, feeding me and washing my clothes.
"I felt like giving up, but this has made it all worth it."
'As the final hooter went I let it all out'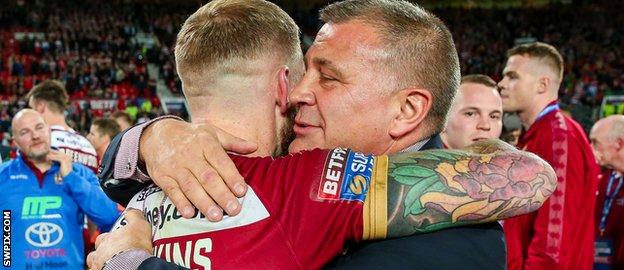 Wane was not the only departing member of the Wigan system, with key players John Bateman, Ryan Sutton and Sam Tomkins also exiting.
Tomkins, 29, left Wigan for New Zealand Warriors on the back of the 2013 success and has done the same in 2018 before his move to Catalans Dragons.
"I'm a bit of a mess," he told BBC Radio 5 live. "I pushed the emotion right to the back of my mind.
"Before kick off I said it had been a normal week, but I've had to push a lot of emotion to the back of my mind.
"As soon as the final hooter went I could let it all out."
'Happy for them, gutted for us'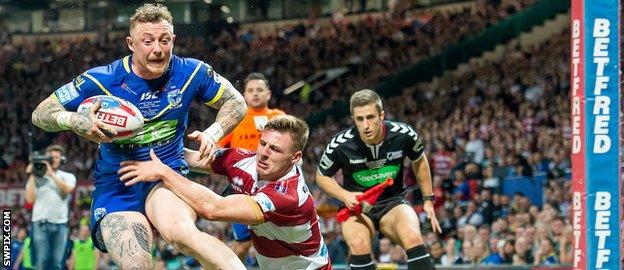 There was almost an inevitability that Josh Charnley would be involved in this game, despite him now wearing the primrose and blue of Warrington rather than Wigan's Cherry and White.
The Warriors academy product scored 165 tries in 176 games - including a score in the 2016 final for Wigan - but joined Warrington on his return to league mid-season from Sale rugby union.
He gave his new side the lead but was forced to watch old pals such as Tomkins, Liam Farrell and his former mentor Wane parade the trophy at the end.
"It's tough," Charnley said. "Against a former club and my mates it feels weird.
"I'm happy for them, but I'm gutted for us. They give everything for Waney, he knows them inside out and you want to do well for him. I did when I played for him."
Warrington's players had double reason to be despondent at the hooter, having also reached the Challenge Cup final where their quest for silverware was ended by Catalans.
"I've only been here five months, we're building and heading the right direction," Charnley continued.
"It's positive that way but we need silverware. We're striving in the right way. I'm devastated because I want silverware."