Michael Channing: Wales and Broncos centre forced to retire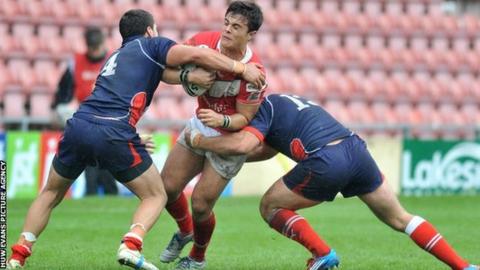 London Broncos three-quarter Michael Channing has been forced to retire at the age of 26 due to a neck injury.
Channing, who won nine Wales caps, began his career with Broncos in 2012, playing for Castleford and Featherstone before rejoining Broncos in 2017.
"I've been forced into early retirement through a neck injury I sustained around three years ago," he said.
"With the advice of the best... medical care under the sun, I'm sure we're making the right decision."
Channing - who qualified for Wales through both grandfathers - was born in Guildford, Surrey, and started out in rugby union.
He was in the academy at Premiership clubs Harlequins and London Irish before switching codes to rugby league at the age of 18 with Broncos.
"I will forever be grateful to be one of the lucky ones who got to live out their childhood dreams," added Channing on social media.
"Over my short career I've experienced some unbelievable moments that I will cherish forever - a World Cup in Australia, reached the Challenge Cup final in Wembley and played with and against the world's best.
"I'd like to thank Castleford, Fev and London Broncos for everything they have given me and to every single member of staff, fans and players within my years I was there."