Super League: Clubs vote to scrap Super 8s in favour of 'one up, one down' system
Last updated on .From the section Rugby League193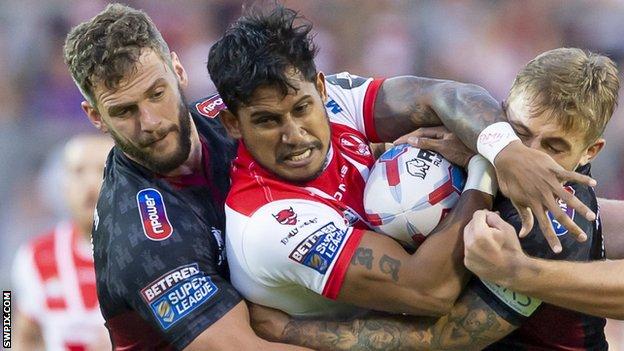 Rugby league clubs have voted by a two-thirds majority to scrap the Super 8s and return to a conventional promotion and relegation system from 2019.
The decision was reached at a Rugby Football League (RFL) extraordinary general meeting in Manchester.
The Super 8s were introduced in 2015 and saw the top two tiers split into three groups at the end of each season to decide promotion and relegation.
However, a "one up, one down" system will be back in place from next season.
Confirmation of the new structure brings to an end several months of battling among clubs, with 11 of the 12 current Super League teams - all except Leeds Rhinos - in support of the change.
There will be a home and away calendar for the 12-team Super League, plus six additional fixtures and the Magic Weekend - where a round of fixtures are all hosted at the same venue over two days.
A five-team play-off series will then culminate in a Grand Final to crown the Super League champions at Old Trafford.
The Championship will expand to a 14-team competition in 2019, with a similar play-off system determining which team will be promoted to Super League the following season.
Two teams will be promoted between the Championship and League One each season from 2019 onwards.
'Super League clubs must deliver on their promise'
Analysis: Dave Woods, BBC rugby league correspondent
The decisiveness of the vote is surprising - a 68% vote in favour of the change shows an unexpected level of support for the RFL proposal from several Championship and League One clubs.
There are mutterings from opponents of the change that there was coercion and bullying from Super League, but the hope will be that this will mark a beginning to the end of the recent acrimony.
Now the ball is in Super League's court. With greater autonomy and control over marketing as well as getting the structure they fought for, it is up to the Super League clubs to deliver on their promise.
The question is can they now make the Super League as vibrant and popular as they reckon they can in time for TV contract renegotiations that will begin in a couple of years' time?
Meanwhile, the Championship and League One clubs have it in their power to restructure those lower leagues as they wish and have done so.
Why did some clubs push for change?
Top clubs cited poor crowds during the Super 8s as clear proof the format was unpopular with the paying public, while issues with the sales of season ticket packages and commercial deals were also flagged up.
However, Rhinos - the only Super League club to oppose the change - were backed up by many clubs from the Championship and League One, who feared a loss of power and money.
In a statement, RFL chief executive Ralph Rimmer said the decision followed "substantial negotiation", but was focused on securing "clear commitments for the whole sport post-2021 so that [rugby league] has certainty".
He continued: "Structure is one of many vital components of any sport. Everyone is focused on a vibrant and successful Super League, Championship and League One.
"We have secured guaranteed promotion and relegation to and from Super League. It is essential that aspiring clubs, owners and fans can see their path to the top.
"We can now move forward and focus on all the areas which contribute to a strong, thriving sport."
Super League chief executive Robert Elstone added: "The whole sport benefits from a strong, attractive, well-resourced and exciting Super League."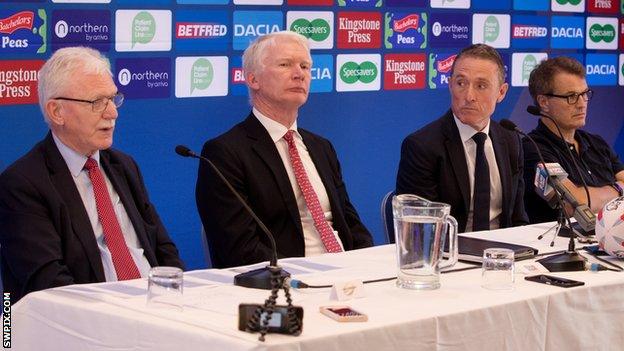 Wigan chairman Ian Lenagan was a leading figure in the move to ditch the Super 8s format and said he felt "total and utter relief" following the outcome of the meeting's vote.
"We've put the divisions behind us now and we can get on with promoting this great game of ours," he said.
"It's a very positive vote for a positive future for rugby league and for Super League."
Meanwhile, Featherstone chairman Mark Campbell - a member of the Championship and League One advisory panel which led the opposition to the RFL proposal - expressed his disappointment with the result.
"I'm struggling to see why they would go with the proposal to be honest but everybody has got their own circumstances," said Campbell, whose Featherstone side finished fifth in the Championship and therefore missed out on the chance to win promotion via the Super 8s Qualifiers.
But with a nod towards drawing a line under the matter, Campbell added: "I do believe in rugby league we are a family.
"Everybody has got their own thoughts on which way they wanted to go but we all love the game and I hope we all get behind this new structure and it works out for everybody."