Qualifiers: Leeds Rhinos beat Toulouse 48-22 but Ryan Hall knee injury sours victory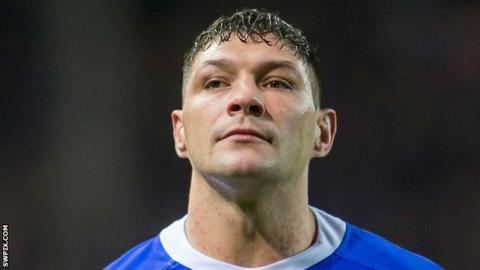 Betfred Qualifiers
Leeds (20) 48
Tries: Dwyer 2, Moon 2, Hall, Myler, Cuthbertson, Ablett, Golding Goals: Sutcliffe 6
Toulouse (16) 22
Tries: Canet, Ader, Puech, Centrone Goals: Kheirallah 3
Leeds Rhinos scored nine tries against a plucky Toulouse side to begin their Qualifiers campaign with victory, that was overshadowed by potentially serious injury to winger Ryan Hall.
Hall, who scored, looked to twist his knee while trying to step past an opponent and was withdrawn immediately.
The first-half was tight, Leeds just edging the contest by 20-16.
However the Rhinos' superior conditioning and experience saw them blow out the score after the break.
Joel Moon and Brad Dwyer ended with doubles, while Hall, Richie Myler, Adam Cuthbertson, unorthodox half-back Carl Ablett and Ashton Golding crossed for the home side.
Toulouse, who finished third in the Championship, caused problems in the first-40 and were rewarded with tries for Bastien Ader, Bastien Canet, Maxime Puech and Chris Centrone.
Leeds Rhinos director of rugby Kevin Sinfield said:
"It's probably too early to say because Ryan is walking around in there and he does tend to recover very quickly from what could be deemed to be really serious injuries.
"He's smiling, but we will get him scanned on Monday morning. At this stage, I would say he's a doubt for next week's trip to London Broncos."
Toulouse head coach Sylvain Houles said:
"We did come back in the first half and showed some character to do that, but Leeds got us around the ruck and we didn't manage to control them.
"That showed us what the next level is for us and it's an area for improvement.
"Attacking-wise, we asked them a lot of questions and we will learn from the whole experience and take confidence from it."
Leeds: L. Sutcliffe; T. Briscoe, Keinhorst, Moon, Hall; Ablett, Myler, Singleton, Dwyer, Crosby, Ferres, Jones-Buchanan, Cuthbertson.
Replacements: Golding, Mullally, Peteru, Oledzki.
Toulouse: Kheirallah; Marcon, Centrone, Ader, Maurel; Ford, Barthau; Bretherton, Marion, Rapira, Canet, Mika, Boyer.
Replacements: Robin, Puech, Hepi, Pettybourne.
Referee: Gareth Hewer (RFL)