Alex Walmsley: St Helens prop to wait another month for injury return
Last updated on .From the section Rugby League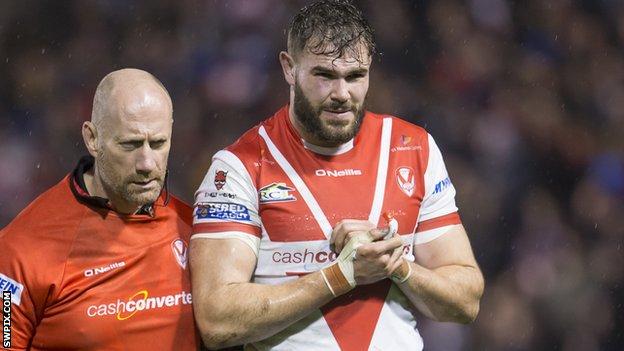 St Helens will be without England international Alex Walmsley for at least another month as he continues his recovery from a neck injury.
"The surgeon just wants to see a bit more bone regrowth," head coach Justin Holbrook told BBC Radio Merseyside.
"We hoped for him to resume playing last week but the surgeon wants to wait four weeks for another scan."
He added: "Alex has done everything right in training and is lifting heavy weights, but he can't do full contact until he gets the all-clear.
"As a coach I want him on the field but the long-term future is the most important thing."
However, Holbrook is confident that the forward will return from the injury stronger.
"As soon as he had the operation, the surgeon said his neck will be stronger with the metal plate he has got in there," Holbrook added.
"That was always the pleasing thing. With a lot of major injuries you come back and it's not the same - but it is just a waiting game."