RFL denies Super League claims of confirmed structure changes from 2019
Last updated on .From the section Rugby League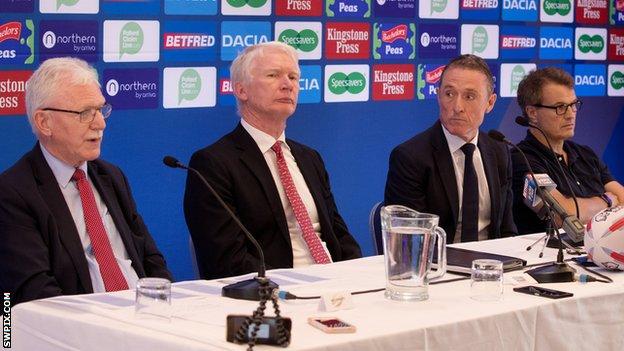 No "binding decisions" have been made to competition structure for next season, the Rugby Football League has said, in light of comments by new Super League chief executive Robert Elstone.
However, the governing body says no such decisions have been finalised.
"These discussions are still ongoing," the RFL statement read.
"The RFL has been in discussions with representatives of the Super League since the turn of the year.
"We have been in regular and broadly constructive meetings with them and Championship and League One clubs about potential changes that could strengthen our sport going forward.
"No binding decisions have been made across a range of issues, including competition structure, but progress is being made. Further meetings are expected to take place between all parties in due course."
'War looms...' - Reactions to the Elstone address
Leeds chief executive Gary Hetherington:
"The announcement regarding plans for next season appear to be an absurd grab for power for the game by a small group of men who think they own the game.
"Leeds Rhinos are not party to this and are totally against the creation of a separate Super League executive.
"Super League clubs voted seven to five at our last meeting on some key issues related to promotion and relegation."
Hull KR chairman Neil Hudgell told BBC Radio Humberside:
"The news around the demise of the middle eights is widely accepted as a positive step across the elite competition.
"What sport gets to the showpiece period of the season without knowing who they're playing and when they're playing them?"
Batley Bulldogs club statement:
"Do not be misled by any conclusion that the format for 2019 has been decided. We believe this was disrespectful to the present consultation process involving the RFL and Championship/League One representatives where we are nowhere near a conclusion.
"Any Super League plan at the last meeting had not even made it to the back of a cigarette packet, let alone a formulated document proposal.
"We need the RFL response to confirm this position working towards a whole game solution or war looms."
What is the current system?
The Super 8s system has been in place since 2015.
At present, 12 clubs in each of the top two divisions - the Super League and Championship - play 23 games which includes playing each side home and away as well as a Magic Weekend fixture.
Once those 23 games are complete, the league structure changes.
Each group of eight plays each other once, totalling seven games, of which the balance of home and away games are decided on a ranking basis.
The main point of concern for Super League is that four teams find themselves in a battle for relegation under the current concept.
Structure of the Super 8s

Super League (Top eight after 23 games, points retained)

Qualifiers (Points reset, top three go up, fourth plays fifth for final spot)

Championship Shield (Points retained)

Super League 1st - 4 H, 3 A

Super League 9th 4H, 3A

Championship 1st 4H, 3A

Super League 2nd 4H, 3A

Super League 10th 4H, 3A

Championship 2nd 4H, 3A

Super League 3rd 4H, 3A

Super League 11th 3H, 4A

Championship 3rd 4H, 3A

Super League 4th 4H, 3A

Super League 12th 3H, 4A

Championship 4th 4H, 3A

Super League 5th 3H, 4A

Championship 1st 4H, 3A

Championship 5th 3H, 4A

Super League 6th 3H, 4A

Championship 2nd 4H, 3A

Championship 6th 3H, 4A

Super League 7th 3H, 4A

Championship 3rd 3H, 4A

Championship 7th 3H, 4A

Super League 8th 3H, 4A

Championship 4th 3H, 4A

Championship 8th 3H, 4A
The remaining eight Championship clubs compete for the Championship Shield.