Les Pearce: Former Wales rugby league coach dies, aged 94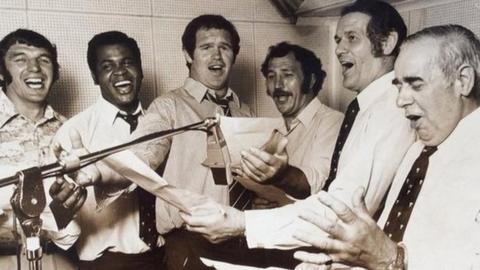 Former Wales rugby league coach Les Pearce has died at the age of 94.
Pearce was in charge of Wales during their momentous 1975 season, in which they memorably beat England 12-7 in Brisbane at that year's World Cup.
They went on to beat New Zealand 25-24 at Swansea.
Pearce, born in October 1923, played for home town club Swansea RFC before turning professional with Halifax in 1949, playing 10 seasons for the Yorkshire club.
Cup final triumphs
He coached Dewsbury before taking over at Halifax and guiding them to the 1972 League Cup final triumph.
In the same year, he coached Leigh to a Floodlit Trophy Final and returned to coach Halifax in 1975 after being in charge of Wales.
Former Wales star Jim Mills paid tribute to Pearce, telling Wales Rugby League's website he had been a "tough player in his day",
Mills added: "We had great success under Les's guidance, beating England, New Zealand and France along the way.
"We all became very close on that tour and Les was loved by all the Welsh boys.
"We have had many reunions ever since and Les was always there right up to last year."