Widnes Vikings: Super League club tackling pressures on the NHS
Last updated on .From the section Rugby League
Twin enforcers James and Ted Chapelhow were just children on their way back from playing a match when their mother pulled up on the motorway to help at the scene of an accident.
Seeing Dr Sharon Chapelhow rush to those in need was nothing new.
Watching her coming home late, exhausted and sometimes in tears from the stress of working as a general practitioner, spurred the two beanpole youngsters from Runcorn to work tirelessly towards their dream of playing for Super League club Widnes Vikings.
"She has been an inspiration to me and Ted," said 22-year-old James, a prop who has made more than 30 senior appearances for the Vikings after coming through the club's academy.
"It was just us and mum growing up, and we saw all the hard work and effort she put into her work.
"People like her say it's their job, but it is above and beyond what most people would do.
"That's influenced us and how we've come up into the team. Me and Ted are not talented players - honestly, ask anyone - but we have the hard-working attitude that comes from our mum."
It is for this very personal reason that the brothers have thrown themselves behind Widnes Vikings' unique campaign aimed at easing the strain on the local National Health Service.
'It speaks to us all'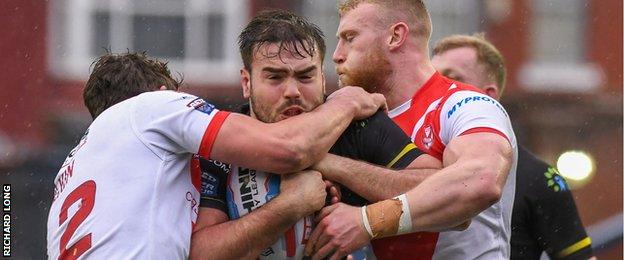 A pilot last year saw the club deliver a month-long video and PR campaign aimed at educating the public on how to best use accident and emergency services and helped contribute to a 7.2% reduction in local hospital admissions.
This year, 10 organisations from across the Mid-Mersey A&E delivery board have channelled part of their marketing budget into Widnes' 'Beat The Scrum' initiative.
The words are plastered all over the Vikings' stadium, they have set up an entire website dedicated to it, their series of winter health video messages - so badly acted that they are good - have been viewed 300,000 times, and they quite literally force the message home during matches with the campaign advertised on the front of their shirts.
Roy Lilley, a health analyst and commentator, and former NHS trust chairman, said he has been "stunned" by the impact the rugby league club has had.
"If the whole of the NHS could be relieved of 7% of its pressures I doubt there would be the panic there is across the NHS," Lilley told BBC Sport.
"It is impossible to understate the significance of this campaign. It is a true exemplar. The figure is the difference between being seen eventually in A&E, and being seen in A&E.
"Relieving the pressure, making people think with the fabulous strapline 'Beat The Scrum', resonates with the local community and is little short of genius.
"It uses the lexicon of the game, plugs it in to the vocabulary of healthcare and speaks to us all."
The ambition of the club, supported by the medical professionals involved, is for the campaign to be replicated nationally.
'We can't stand idly by throwing stones'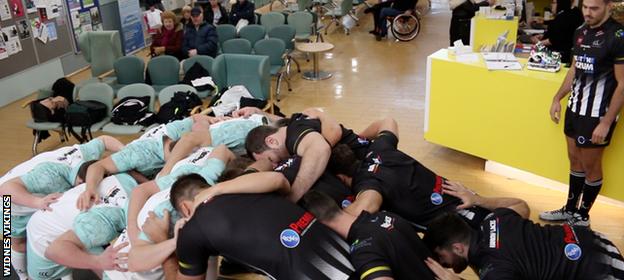 Footage of a scrum being set in a hospital waiting room is the cornerstone message of a campaign that is aimed at preventing people needlessly turning up to A&E by raising awareness of other medical options, from pharmacies and GPs to walk-in and urgent care centres.
In 2016, 120,000 people unnecessarily visited A&E in the St Helens, Knowsley, Whiston and Halton area, at a cost of £10m.
The strain on local services "struck a powerful chord" with the Vikings, said chief executive and part owner James Rule.
An established relationship between the club and local NHS already existed through its community foundation, with Vikings involved in programmes focused on mental health, improving physical fitness and dealing with loneliness and isolation among the elderly.
"We saw a real opportunity to step up and help the NHS," Rule continued. "The media is awash with stories about the pressure they are under and the challenges they face, particularly at the coalface in A&E departments.
"We can't stand idly by throwing stones and say it needs to do better. It is overburdened at the minute.
"We felt we had an opportunity with engagement platforms and our brand to cut through and talk to a significant audience, to work with the NHS and work with the local community to make better choices and take pressure off frontline services.
"It is inspiring to think that if we can make this work properly, we can make a genuine difference."
'Sticking our necks out'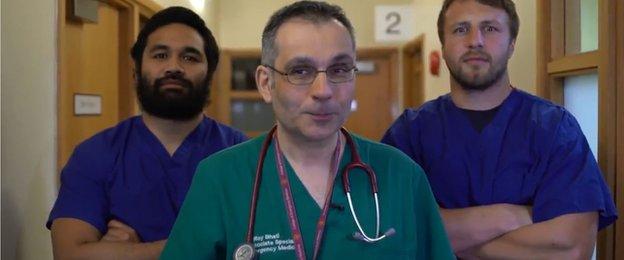 The club struggled to retain their Super League status in what ironically was an injury-hit 2017 season, but still added to their trophy cabinet.
Among silverware won over the decades of toil on the field, and at the opposite end to the World Club Challenge cup - lifted after victory in 1989 over Australian side Canberra Raiders - is the Rosa Parks Award, a national NHS gong handed out in recognition of the community impact they made.
And this year the project has been shortlisted for innovation at the NHS Sustainability Awards.
Rob Cooper, director of operations and performance for St Helens and Knowsley Teaching Hospitals NHS Trust, was among those who needed to be convinced that Widnes Vikings could help.
He admits it was "surreal" to have a rugby league club offer assistance and that "we were all a little sceptical", as is usually the case when breaking with convention.
"We are talking about public money and everyone was saying 'is this going to be value for money?' This was something completely different that we did have to stick our necks out a little for," Cooper said.
"We got to the point where we thought that something different needed to happen. The traditional ways of trying to get the message out to the public wasn't working.
"It has been the right decision. That is not to say that we are not still busy, we are and will continue to be busy, but taking the time to get that message across through a different type of media was important to us."
'More awareness needed'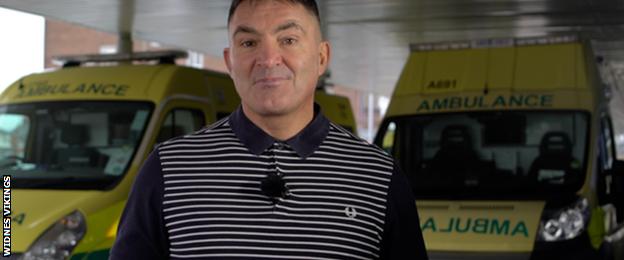 Tackling the severe pressures faced in A&E is of critical importance at Warrington and Halton Hospitals, so much so that a senior nurse has been placed on the front door to act as a 'navigator' to send people where most appropriate.
It is the physical embodiment of the message that the Vikings are trying to deliver, and emergency department matron Ali Crawford says it is just another way of getting "the right people to the right place" and have them stop using A&E as a "quick fix".
"We need this campaign," she said. "There needs to be more awareness.
"We need to chip, chip, chip away at it. We are trying to fix what we can.
"We get used as a GP surgery, we get used for minor ailments that can be treated elsewhere. We just haven't got the workforce to see what we are seeing every day.
"We will deflect now, but there is a reason for that - if you haven't had an accident and it's not an emergency, then you just should not be walking through our doors."
The Chapelhow twins, who both stand more than 6ft 3ins tall and weigh a combined 219kg, might be battering rams on the pitch for Widnes, but it is the message they are supporting for the NHS that they really want to reverberate.
"Not many people want to listen to me and Ted about our rugby league knowledge," said James, "but it's good that people are watching and listening when we talk about the NHS."