Tara Jones: St Helens Ladies captain on making Super League history and juggling commitments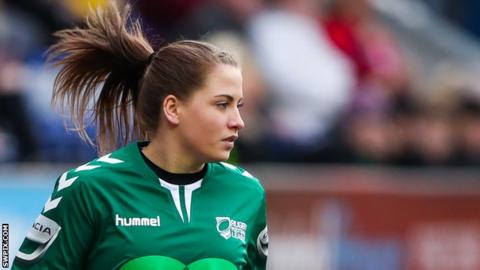 "It's hard but it's what I want to do, so I make it work. We have to put a bit of hard work and dedication in and give a lot of things up away from rugby."
Tara Jones leads quite a busy life when the rugby league season gets under way.
The 21-year-old became the first female on-field match official in a Super League game when she was an in-goal judge for Wigan's game against Wakefield at the DW Stadium on 11 March.
Four days later, she was named as St Helens Ladies' first ever captain for their debut season in the Women's Super League.
Not a bad week at the office, it is fair to say, but with her commitments to the sport as well as her job as a sports technician at a sixth-form college in Widnes, she does not have a great deal of spare time.
"I'll be officiating and playing every weekend," she told BBC Sport. "I could be refereeing on a Saturday and then playing on a Sunday, but the referee appointments don't come out until Tuesday each week.
"Every week could be different. I'll be doing both every weekend once the Women's Super League season kicks off [in April] but during the week I work as well as we don't get paid to play."
Fortunately for Jones, her employers are understanding of the mammoth rugby league commitments she has in addition to her career.
"Work is really supportive of what I do, so if I've got a meeting sometimes they might let me leave early," she continued.
"We get match fees and expenses to officiate but you don't get paid as a job as such. You get a match fee. A lot of the meetings we have are in Yorkshire, however, and we don't get any travel expenses for that."
'We were lucky if we got a game'
After moving to Warrington as a child, Jones played junior rugby for Crosfields Amateur Rugby League Football Club with her brother.
When Jones progressed at Crosfields, however, she was not allowed to play for the boys' team from under-12 level onwards, so she moved to Warrington Girls and also began a refereeing course.
"Officiating was a way to stay involved in the game because when I moved from the boys' to the girls' team, it wasn't very well developed," she said.
"We didn't have a full side, we didn't play every week and we were lucky if we got a game. I had already played rugby for a few years and I was becoming disinterested in playing, so I got into refereeing to stay involved. But I carried on playing as well."
Fast forward to 2018 and Jones has been graded on the Rugby Football League's (RFL) pathway as a match official, last season refereeing in the National Conference League before making her Super League debut in March.
"It's a bit surreal, really. It's an honour to be the first female official in Super League and get some recognition from what I've done from the age of 12 to now," Jones added.
"There's a few more young officials coming through now, so I hope that they can know that they can make it as well."
'It was a shock'
Jones signed for St Helens for the 2018 Women's Super League season having previously played for Thatto Heath and will skipper the side in their first season in the league.
She said: "It was brilliant to sign for the club. It's good to be part of the league and the setup. It's really good that the game is growing. It's great to be a part of it.
"It was a shock to be appointed captain. I wasn't really expecting it. It's an honour to captain the side this year and to be the first Saints captain. It's an honour to do it and I look forward to leading the girls both on and off the field.
"The girls have come together nicely at training and then we've got quite a few new girls in the squad that have come from different sports, which is good to see.
"We just can't wait to play now because it's been a long pre-season and a lot of hard work "